Adding an eSignature free is easy but it requires a special tool. This can either be a standalone application, an online service, or part of a larger software application. The need for an eSignature for PDF is obvious: nowadays, most documents are circulated online in PDF format, either via email or uploaded to the web for wider accessibility; to effectively sign such documents, an eSignature creator (free or paid) is required in order for the signature to be legally binding. Many countries have tight restrictions and standards for digital signatures, so the first step is always making sure that the application or service you're using is in compliance with these regulatory standards. Another aspect to consider is functionality - for example, what other signature-related features does it offer? Affordability is yet another criterion, which is why we've covered five software apps and services that allow you to add an eSignature free of cost.
Top 5 Ways to Add an eSignature Free on PDF Documents
SignX
SignX is one of the most comprehensive eSignature free solutions for you to explore. With simple signing features and advanced bulk send and tracking capabilities, it is suitable for small and large organizations alike. One of the most appealing features of SignX is the usability factor; the interface is neatly laid out and easy to understand, which means first-time users can quickly complete their tasks without wasting time figuring things out.
Pros
● User-friendly interface
● A full suite of tools for eSignature creation, applying to PDF bulk sending, tracking, etc.
● Easy creation of legally valid eSignatures using three different options
● Multiple ways to upload your PDF documents
● Secure online experience
● Free to set and customize signature field
● Wondershare ID supported, affordable to upgrade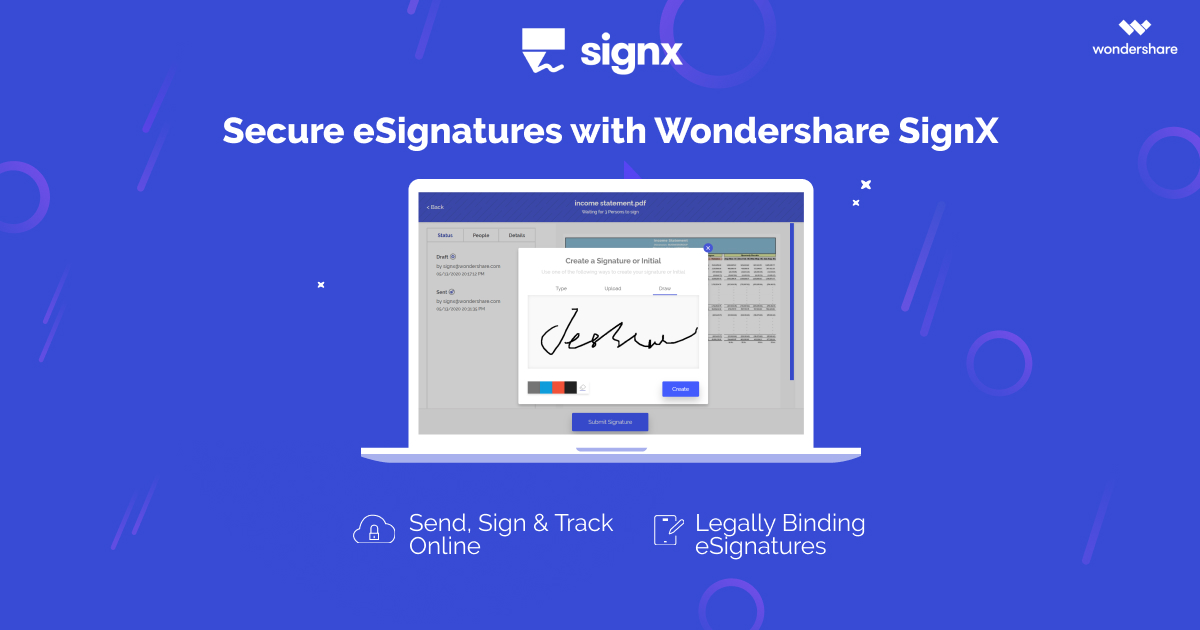 DocuSign
This is one of the most well-known names in the world of digital signatures. Deep integration with beautiful design makes this appealing as well as highly functional. The advantage here is that it is widely used, which means your clients and vendors are likely to be using it as well. There are also comprehensive tools for sending and tracking, as well as options to see document history, etc.
Pros
● Wide usage
● Robust feature set
● Clean and easy-to-navigate interface
Cons
● Free use limited to three signature requests
● Relatively expensive compared to similar tools
HelloSign
HelloSign is another popular eSigning software platform with high-grade encryption and security protocols. It is ideal for sending confidential documents for signatures and offers a simple but functional interface. It captures an audit trail like other premium tools and also offers an API to integrate the eSignature feature into websites and other applications. Ready integrations with Salesforce and other products make it ideal for large companies to integrate with existing software.
Pros
● Simple and intuitive user interface
● Adequate feature set
● Two-factor signer authentication - email ID + access code
Cons
● Pricing jumps from free to Pro to Business are significant
● Customer reviews indicate a lack of certain key features
One of the top eSignature free online services is HiPDF, which comprises a full suite of PDF tools for editing, converting, eSigning, protecting, optimizing, OCR, and other functions. The site keeps your uploaded documents on secure servers that are purged regularly to protect the confidentiality of your workflows. The PDF eSigning feature is simple but convenient, allowing you to quickly apply a digital signature on a PDF without having to download or install anything.
Pros
● Convenient for eSigning individual documents
● No installation
● Secure storage of documents
● Several other online PDF functions available to access
● Unlimited eSignatures free
Cons
● No advanced eSigning features
● No bulk sending or tracking
DigiSigner
This PDF signer software is available for download and as an online eSignature free service. If you're looking for an eSignature creator free from complicated navigation and hard-to-find functions, this is it. There are also helpful features like templates, bulk sending and tracking, custom branding options, and the ability to create 'signing links' so the document can be uploaded to a website for the signers to access.
Pros
● User-friendly interface
● Online and offline eSignature options
● Unique 'signing links' feature
Cons
● Free version limited to 3 documents per month
● Relatively expensive to upgrade to Pro
Which is the Best Free eSignature Solution for You?
Comparing all the pros and cons of the top 5 eSignature (free) tools, it's clear that one product stands out from the crowd, and that's SignX. It's certainly a lot easier than adding an Adobe eSignature free using a tool like Adobe Sign, or even with other alternatives. Considering the advanced features like bulk sending, tracking, templates, and customization options, it offers the best value for money. In addition, the user-friendly interface cuts time that's normally wasted figuring out new software. In addition, it offers the highest free limit that also includes email notifications and access to the audit trail.
How to Send a PDF for eSignature Free in SignX
The process, as explained, is very simple and only involves a few steps:
Step 1: Log in to your SignX account and click the button to upload the PDF file.
Step 2: The file can be previewed after upload. Click Next and add the email addresses of the signers with the + button. You can do them individually or by uploading a CSV file.
Step 3: Before you get to the next step, you can add yourself as one of the signatories. Once that's done, input the email subject and body. Click Next, then agree to the terms and hit Continue.
Step 4: The final step is to add the signature and other fields in the document, such as the date and any other custom fields you need. When you're ready, click on Send for Signature.
If you need additional features like being able to add a secure access code, you can upgrade to a paid SignX plan. It's more affordable than any utility with similar features and offers enterprise-grade security for your uploaded documents. In addition, the pricing is very transparent so you know upfront what you'll be paying for Premium and Enterprise accounts.
---
Video on How to Sign Your PDF File Free Online