Top 5 Tools for Online Signature on Mac (Including Sierra)
An online signature tool for Mac is perhaps the greatest invention for all business being conducted online. If you are trying to find the right way to use online signature service for Mac, we can help you.
A tool that lets you create electronic signature online on Mac and enables you to insert it into important business documents in a safe and secure manner is perfect for businesses. To ensure that the document is signed and sent safely to the involved parties, a perfect one-stop solution for electronic signature on Mac is needed. After extensive research, we have found the 5 best online electronic signature software for Mac!
Part 1: Top 5 Tools to Make Online Signature on Mac
1

Wondershare SignX -The Best Online Signature for Mac
Wondershare SignX is undoubtedly the best electronic signature tool for Mac. It comprises of everything that makes it perfect for both personal as well as business use. It is one of the most affordable options out there. The user interface is friendly and you won't even need a demo to operate it. The best thing about it is the safety and ease it offers to the users. You can even use the trial and be sure if you want to purchase it!
Pros:
Support to add multiple users to your account
Fast creation of e-sign of your choice
Receive e-sign quick on your document
Creates legally binding signatures
Security functions like SSL encryption, password protection, access code
Reduces cost, time and efforts to a great extent
Sign as you go, access SignX from any device anytime, anywhere
2

SignNow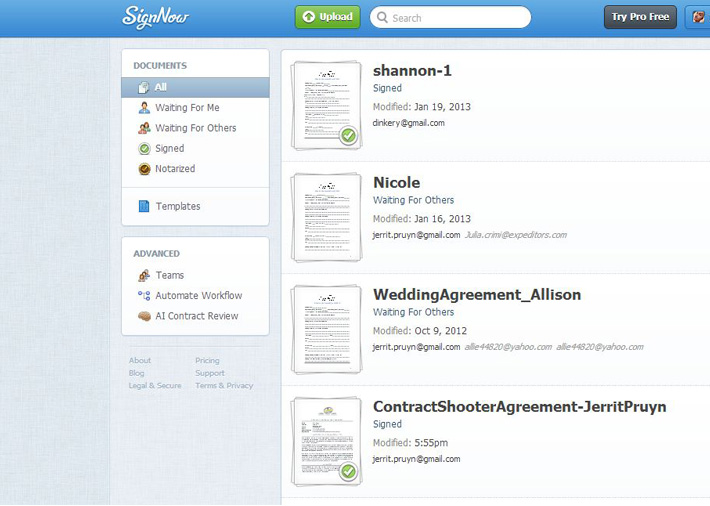 SignNow is another option of online eSignature for Mac. You have to import your file into SignNow and you can draw you signature or also upload the image of your signature, preferably on white background. It has both mobile as well as a web interface. It comes in a free and a premium version.
Pros:
You can reuse your uploaded signature
Easily edit the signatures on documents
Android and iOS app available
Cons:
It isn't very easy to use
The interface is mostly irresponsive
Doesn't always recognize handwriting in real time
Free version doesn't have full features
3

eSignLive
eSignLive is an entire browser-based electronic signature solution for Mac. This means you don't have to download or install anything on your computer. You also don't need to sign up and create an account to use it.
Pros:
Can sign documents using the freehand option
You can perform basic editing easily
Cons:
You can't delete the unused PDF, the site will
Too hard to replicate signature
You'll need to upload scanned image of signature to easily sign
Can't handle files larger than a specific file size
4

Adobe Sign
Adobe Sign is a full suite containing an electronic signature feature that can be used on Mac OS X. The former name of Adobe Sign is EchoSign. After you register an account, you will be able to sign your PDF files.
Pros:
Easy sharing of PDF documents via Adobe.com
An industry standard software to view PDF files
Efficient navigation system
Cons:
The interface lags and is very slow
Too many unnecessary extensions and plugins
Formatting issues when opening PDFs created in Word
It doesn't work well on 64 bit systems
5

DocuSign
DocuSign is one more option of electronic signing for Mac users. It is also a web-based service that doesn't require you to download or install anything. However, you will need to create a DocuSign account to start uploading your file and signing.
Pros:
Can upload files from several cloud services
Options for creation of electronic signatures
Collection of cursive fonts available
Cons:
Upgrading to Professional version is pricey
Free version has very limited features
Can't invite multiple people to sign without paying
It can improve on customizing tags
Part 2: Tips for Online Signature on Mac
Performing user authentication, creating and inserting signatures electronically on the documents can be made easier by the use of some tips-
Some online e-sign solution software for Mac lets you insert picture of the signature on any document created with MS Word. These can easily tamper. Be careful with the tool you choose.
Make sure that the digital signature you create supports more than one application, i.e., signatures created on a digital signature system should support all famous applications like MS Word, Adobe, etc.
Use the online signature for Mac solution that allows for the signing of more than one person in one document. Many services don't make it possible to add more.
Be sure about the compliance factor. Make sure the online electronic signing solution for Mac you are using is created legally binding and authentic signatures.
A crucial feature of a good online signature tool for Mac is transportability. The other parties shouldn't need to install what you have to view the signature.