Nitro Cloud Login, Overview, Features, Reviews and Alternatives
If you are someone who regularly uses PDF documents for business purposes, you must be aware of Nitro Cloud. From annotating a document to electronically signing them, Nitro cloud gets it done just right. Nitro electronic signature feature is a blessing for people who have to send out documents to be signed on a regular basis. Read on to learn more.
Part 1

Features and Benefits of Nitro Cloud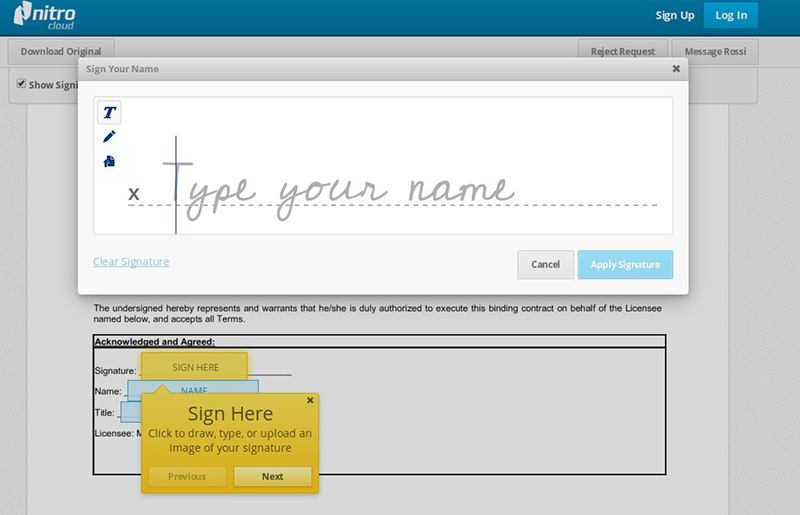 Nitro Cloud is a powerful tool that consists of almost everything that might be needed for editing, signing and sharing a PDF file. Features in the Nitro Cloud and Nitro Pro are a little bit different, with the pro version having active collaboration functions. A few attractive features of Nitro Cloud are-
Some features of Authentisign are:
Create a fully new PDF file
Add annotations to your file
Secure your documents using a password
Digitally sign your documents
Share these documents securely
Add an instruction or message for the next signer
Also, offers numerous document conversion features
It offers a cloud on which you can save your documents
Benefits of Nitro Cloud:
Nitro Cloud has been famously known as a great alternative to Adobe Acrobat. True that the former comes from a reputed name, but Nitro Cloud offers a smoother deployment in a lot lesser download size. Counting that in, there are various benefits of the tool-
No messy scheme of paying for updates
The functioning of each feature is smooth
It provides a safe space for your documents to be safe
Creating a new PDF file is easy
Adding tags, signature boxes and other annotations is effortless
Management of the documents is pretty stress-free
It is a full suite for all office document needs
Part 2

Some Reviews of Nitro Cloud

Customers liked- based on a review from g2cloud

"Nitro Cloud is an excellent free online tool that can convert popular Office documents (Word, PowerPoint, and Excel) to PDF format. The interesting thing is that also works in reverse, what means that I can convert any PDF file to an Excel, PowerPoint or Word one. I can also establish a connection between Nitro Pro and Nitro Cloud, having the possibility to share files on the net."

Customers disliked-

"Need to upload the original file to the website – potential security concerns – and then wait for the converted file to show up in your email box. Occasionally the formatting is lost or the conversion isn't perfect (words will need to be spellchecked/corrected, etc.)"
Part 3

Tips for Nitro Cloud Login

For logging into Nitro Cloud, follow the tutorial below-

Step 1: VISIT NITRO CLOUD

Open your browser and visit Nitro Cloud.

Step 2: SIGN UP OR LOGIN

You will end up on the "Authentication" page. If you didn't have an account on Nitro Cloud, you will have to Sign Up. Fill in your details including Name, email, and password. Now click on "Get started for free". Once you verify your account from the email address you entered, your account will become "active" on the platform.

If you already have an account with Nitro Cloud, simply login using your email and password.

Step 3: EXPLORE NITRO CLOUD

Once your login is successful, you will enter the Nitro Cloud platform. You can now create, sign, annotate your documents and more.
Part 4

How to Use Nitro Cloud for Electronic Signature

For using Nitro Cloud for Electronic Signature, follow the tutorial below-
Step 1- Open the document that you need to sign using Nitro Cloud.
Step 2- Now, click on "Home" tab. This will reveal a number of options.
Step 3- From the various options below, select "QuickSign".
Step 4- A new popup will appear, will details on the kind of signatures the platform allows. You will find "handwritten, from a file, Draw, Webcam" options. Select the one that suits you and add your signature.
Step 5- After the signature of your choice has been saved on the platform, simply drag and drop it to the location on the file. After finalizing your sign location, click on "Apply" to save changes. Simple as that!
Part 5

Better Nitro Cloud Alternatives You Should Know
1) SignX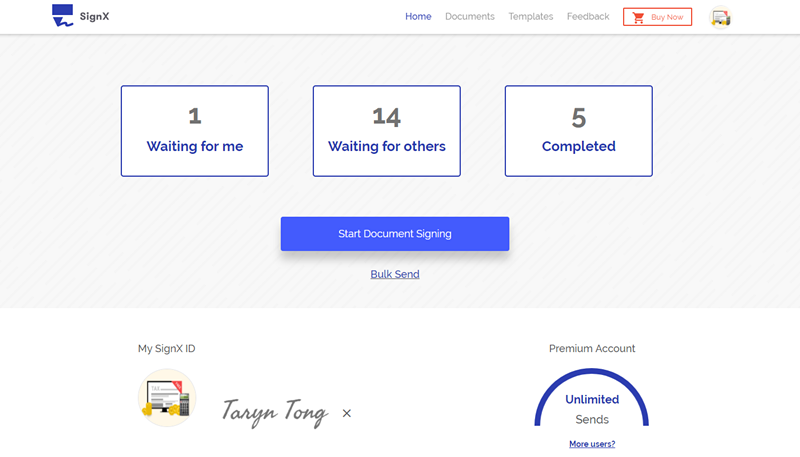 It wouldn't be fair if SignX was not the first in this list of Nitro Cloud alternatives. From every angle, SignX is a big competitor to Nitro Cloud. It lets you electronically sign your documents in the securest way possible. Whether it is double authentication or tamper proof technology, SignX covers it all. You will get legally binding signatures on your documents without breaking a sweat!
Receive quick and secure signatures
Saves a lot of efforts, money and time
Allows downloading and printing of documents
It has a multi user admin system
Reusable templates available to save your efforts
2) Foxit Cloud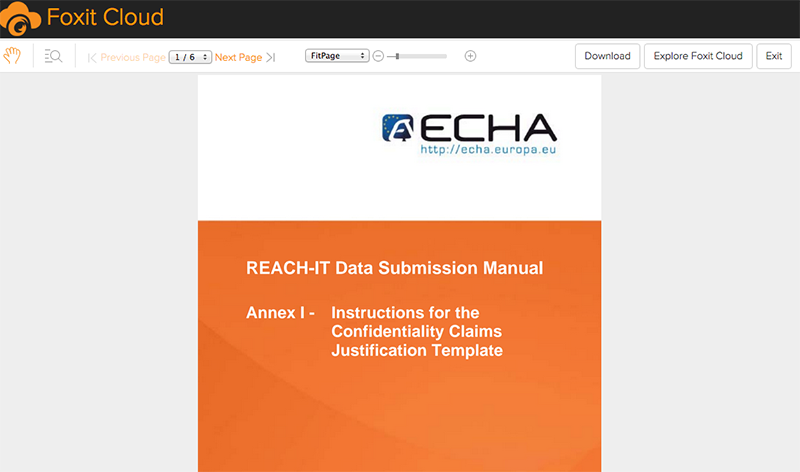 Foxit Cloud is another software like Nitro Cloud that offers the functionality to create, edit and electronically sign PDF documents on its platform. If you have a Foxit account, it will let you log in from any device and manage your documents. They will be saved on the cloud that only the authenticated can access.
Pros:
Offers 1 GB of free space upon signup
Accessible from a number of devices
Noncumbersome user interface
Cons:
Shows ads from various third party websites
Presence of bugs makes functioning unpleasant
3) SignEasy
Archieving the documents on SignEasy is really easy, and so it opening it on a variety of platforms. If you are always on the go but you need to manage your documents at the same time, you can use the simple and effective e-signing tool SignEasy. It has a selection of sign features available to help you choose the one that suits you perfectly.
Pros:
The cost of the packages are fixed
No restriction on number of documents you edit
No restriction on number of signers
Cons:
Moving objects to the file is difficult
Some of the features are lacking
4) eSignLive
eSignLive is a great tool for signing your documents electronically. This Nitro Cloud alternative is used by many government organisations, banks, and several important establishments. The reason for its popularity is the standard of legal protection it provides to the document you sign using this tool. The technologies used in the software establish it as the securest option available for esigning.
Pros:
High-level security of document
The cloud is also safe
The deployment is pretty flexible
Cons:
Can use a few more features
Can be made a little easier to use
5) DocuSign
DocuSign has become a beacon in the world of electronic signatures. It offers a fully digital document signing experience that can help significantly reduce the time of return of documents due for signing. This will obviously support smooth organizational flow and proper functioning of the company.
Pros:
Brand recognition is praiseworthy
Multiple signing takes a few minutes
Very convenient to send a document for signature
Cons:
Pricier than most esign tools
Signing and navigation is difficult