Top 5 Online Signature Creators
In this fast-paced business environment, online signature creators are fulfilling a need that has existed for businesses in a very long time; the need to save time and resources. In one way, they help you save time and money by reducing the time it takes to sign a document. Therefore, every business is constantly looking for the best online signature creator and while there are very many, few actually delivers what they promise. This article will provide you with 5 of the best online signature creators for you to choose from. Let's begin with the best of them.
Part 1

An Ideal Signature Creator Online
One of the best online signature creators in the business has earned the coveted top spot for a number of reasons. First of all, it makes signature creation so easy, you could do it even if you have never used an online signature creator before. Before we get to the other reasons why it is the best, this signature creator is known as Wondershare SignX and you want to use it for the following reasons.
It is fast, efficient and very easy to use. You will be able to create and use your signature in mere minutes.
This online signature creator guarantees the security of the document being signed. You even have the choice of adding an access code as additional security.
Every signature created and used will be legally binding and completely enforceable.
You can use the service from just about any device. This means you don't have to be in the office to create and use signatures.
You can add or remove a number of users in your account with simple clicks.
How to use the best online signature creator? Follow these very simple steps to create a signature online.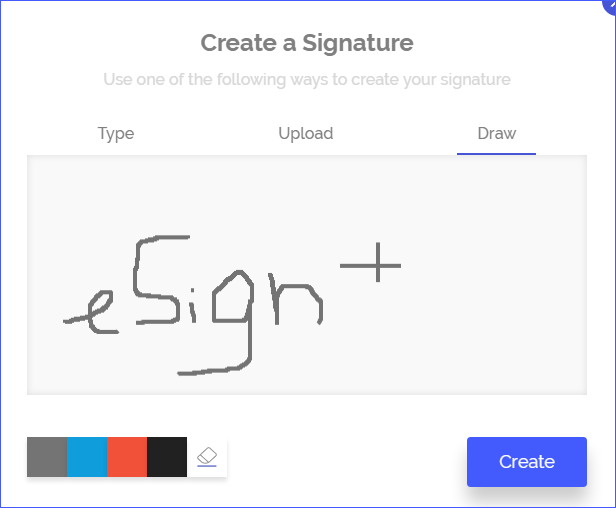 Step 1: Create Signature by Drawing
If you don't already have an account with SignX take the time to create one and then sign in to your account. Once logged in, click on "Create a Signature" located near your profile picture.
In the dialogue box that appears, select the "Draw" tab and then use your mouse or touchpad to draw the signature. You can change the colors on the signature and then click "Create" when you're ready.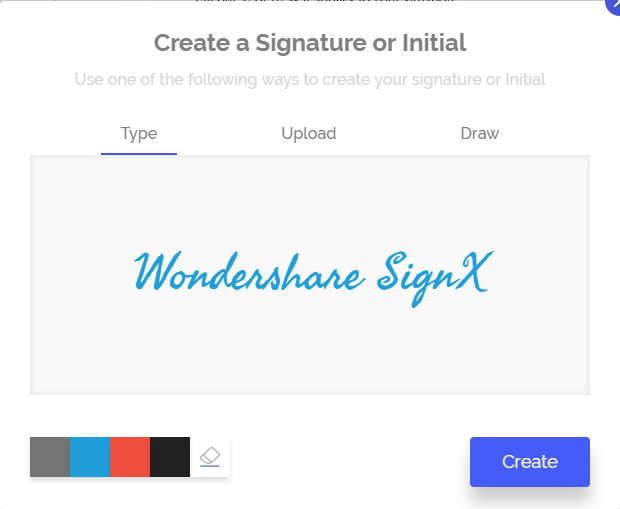 Step 2: Create Signature by Typing
You can also create a signature by typing. Click on "Create a Signature" and then click on "Type" tab in the dialogue box that appears. Type in the text you want to appear in the signature and then once again choose the color you want to use. Click "Create" when you're done.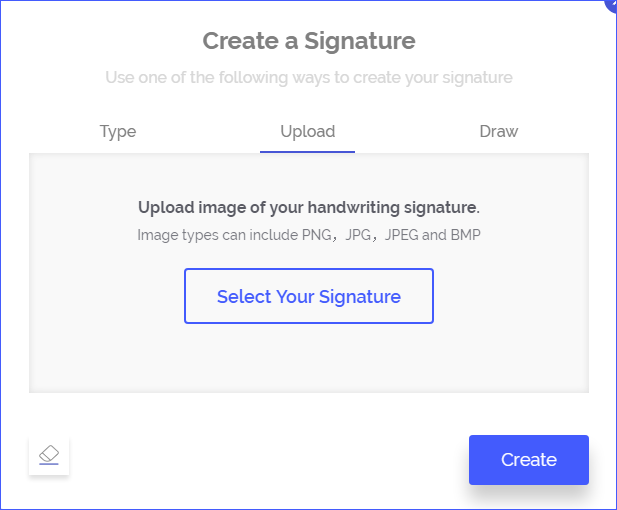 Step 3: Create Signature by Uploading an Image
You can also use a pre-made signature image if you have one. To upload it, click on "Create a Signature" and then select "Upload" to brose for the image you want to use. Click "Create" to use it.
Part 2

The Other 4 Online Signature Creators
1. Need A Sig
This is a great online resource that lets you create your signatures in a number of different ways. It comes with dozens of customization options that allow you to create a truly unique signature. You can customize the signatures by changing the font size, style and color. It however lacks some of the more advanced features that allow you to sign a document and share it with other signers. You can only use it to create a signature.
Pros:
You have multiple ways to create a signature You can also customize the signature anyway you want
Cons:
It can't be used to sign documents
2. Sunny Neo- Signature Creator Online
This is a free application that allows users to create online signatures for free. All you gave to do is type in the text you want to use as your signature and application will generate the signature for you. The fact that it is completely free to use makes it a great one to choose if you just want to test out the whole online signature experience. But it lacks some of the customizations you will find on other signature creators.
Pros:
It is easy to use and created great signatures
It is completely free to use
Cons:
There isn't much you can do to customize the signatures
You also can't use it to sign or send documents for signing
3. Avatastico - Online Signature Creator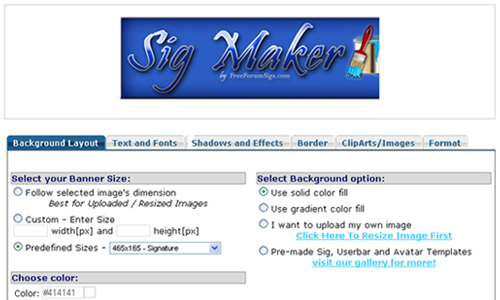 This is an online banner maker that can also be used to create online signatures. It is a great choice due to the very many different customization options available for the signature you create. It is however very useful if you want to create a signature for online forums or for general online uses. The signatures it creates may not be ideal if you are looking to create signatures to sign documents.
Pros:
It is very easy to use
Provides many options to customize the signature in terms of color and fonts
Cons:
It may not be ideal for signatures for documents
You may not be able to sign any documents, just generate and download the signature
4. HelloSign
HelloSign is a more advanced online signature creator that can also help you sign documents. You can create an online signature by typing, or drawing and then upload a document that you can then apply the signature to. HelloSign is also available for mobile devices as an Android and iOS app. It also has browser extension that you can download and use to generate email signatures. It integrates very well with all of the top cloud storage solutions to make it easy for you to share the documents after signing.
Pros:
It is very easy to use and allows you multiple ways to generate signatures
You can use it to sign and manage documents
It comes with Android and iOS apps for added flexibility
It integrates well with cloud services such as Dropbox and Google to make it easier to share the documents
Cons:
It doesn't give you too many options to customize your signature
It can be a little difficult when you want to add multiple signers