E-signature services are many but the most reliable are far and few between. The most popular ones in terms of reliability are SignNow, formerly known as CudaSign and DocuSign. But how do the two compare in terms of pricing, features and integration? Both provide the opportunity to create and use legally binding signatures on any document on any device. They are also highly inclusive in terms of integrations and ease of use. Here's a complete comparison of SignNow and DocuSign.
Part 1

Features Comparison between SignNow and DocuSign

To understand what the two can do, let's take a look at the advanced features each service has to offer and compare the two.
SignNow Features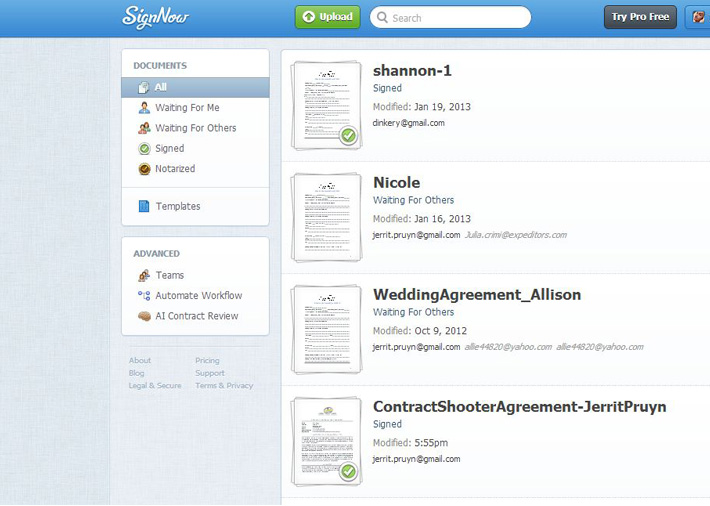 SignNow offers a wide range of features at all price points. These features include the following.
Unlimited document sending even for the lowest price point package
Unlimited sharable templates, each customizable
Custom branding
Kiosk mode offers in-person signature
Users can also create and share signature links to make the signing process that much easier.
There are also a wide range of advanced features that are available to higher priced packages. These include the following.
The ability to add advanced and conditional fields such as text boxes, date boxes and signature fields.
API features for the more advanced user
Phone support and integration with other services
DocuSign Features
DocuSign on the other hand offers a wide range of features some similar to the ones get with SignNow. The following are some of the differences.
Unlimited document signing and templates
The availability of conditional fields
Transaction rooms in DocuSign make for powerful transaction management
Comparison Between SignNow and DocuSign
While both services do provide the user with the ability to sign and send documents for signing, SignNow offers the best value for money. For instance, the Business Package offers unlimited document signing and unlimited templates for only $5 per user per month. For an additional $10 a month, a user can upgrade to the Business Premium platform where they can gain access to additional features like custom branding, conditional fields and integration with Salesforce.
DocuSign may offer a higher price point as compared to SignNow but it is ideal for certain specialized business including real estate. The specific functionality may be worth the additional amount. The cheapest price point for DocuSign is $10 a month but the service has a reputation as one of the best e-signature services in the business.
Part 2

User Reviews Comparison between SignNow and DocuSign

The following are the pros and cons of each to get a clear picture of which one you should choose.

1. SignNow

Pros:
It is relatively affordable at $5 for the most basic package
The most basic package offers unlimited templates and unlimited document signings
Additional advanced features include API, integration to Salesforce and more
Comes with an Android and iOS app
Cons:
Doesn't offer any features designed to cater to a specified audience
2. DocuSign
Pros:
Offers unlimited document signings and unlimited templates
Comes with an Android and iOS app
Offers industry specific features particularly for the real estate industry
Has a reputation for being reliable and effective
Cons:
It is a bit more expensive than other brands in the market
Part 3

Pricing Comparison between SignNow and DocuSign

The following is a price breakdown for both services so you know exactly what you'll get with every package.
1. SignNow Pricing
SignNow pricing comes in three tiers. The first, Business, is only $5 per user per month and offers unlimited document signing and templates. The second tier is only $10 and offers everything the Business package offers as well as custom branding, conditional fields and Salesforce integration. The final tier is both customable in terms of pricing and features.
2. DocuSign Pricing
The most basic tier in DocuSign is the Personal Tier that goes for $10 a month, although it is a little bit limited in capability; you can only send a maximum of 5 documents a month. The second tier, Standard is $25 and the Business Pro is the final tier at $40 a month.
Part 4

Choose between SignNow and DocuSign

The one you choose will depend on your needs as well as your budget. If you are on a budget but still want effective features, SignNow might be the better choice. For $5, you get unlimited signings and unlimited templates. For $10 on DocuSign, you can only send 5 documents for signing. On the other hand, DocuSign, will provide a customizable specified solution for certain businesses. For instance, if you are in the real estate business, you can benefit greatly from the features DocuSign has to offer.

But SignNow can still offer you a way to customize their service when you purchase the Enterprise package. In all, SignNow has more to offer for the average user both in terms of capability and pricing particularly for the beginner user.