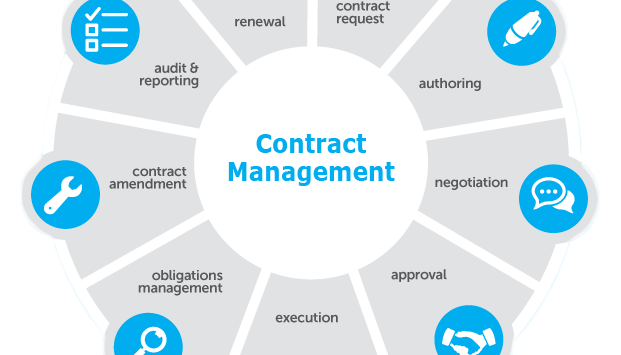 Contract management refers to the process of managing contracts from partners, vendors, customers and employees. The process supports any process that contributes, create and utilizes contract data. Depending on how it's done, contract management can be an asset or a liability to a company. The level of success for any contract management process is in how integrated and digitalized the process is.
It can therefore involve certain infrastructure like self-service portals, the availability of pre-approved templates, electronic signatures and even legal playbooks. This is the type of infrastructure that makes the process more manageable and easy to maintain.
Part 2

Contract Management Process

The following is a description of a typical contract management process.

1. Request

This is the actual creation of a contract which can involve templates if a company is using the latest digital contract management system.

2. Negotiate

Negotiations are the next step. This is where the terms and conditions that are in the final contract are determined.

3. Approval

This where the contract is sent to legal for approval before it can be signed by the stakeholders. Once it has been approved and signed, the contract's terms and conditions are set into effect and stored.

4. Search and Report

Occasionally a contract will be required. If you use the traditional filing cabinet form of storage, the contract usually can't be located which leads to the manual analysis of a contract which can lead to human error.

5. Comply/ Amend

It is also likely that sometimes you may need to check if both parties are holding up their end of the deal. This can take some time when all transactions need to be reviewed manually. If the contract period comes to an end, the terms may need to be renegotiated. Unless there is proper contract management, this period can pass without notice.