Employment contracts are the documents that spell out agreements between employer and the employee. That said, at times some issues may arise out of these employment contracts. For instance there are scenarios where one may sign and not fulfil a contract. In this case, signing an employment contract and not starting implies that an employee signed a contract but failed to start the job. This is just the tip of the iceberg as there are a dozen of other common issues. Well, this article will try to give answers to some common issues with signing employment contracts.
Part 1

Top 10 Common Issues and Answers for Signing Employment Contract
1. Signing employment contract and not starting
Sometimes an employee may sign a contract after being offered a job and circumstances may arise along the way forcing him/her not to start the job offered.
Most contracts require employees to give one month notice before leaving the job. So in case, the employee is not able to begin the job after signing the contract, they should give notice to the employer. Thus the employee may not be sued for breaching a contract because there was no loss to the company.
2. New employment contract do I have to sign?
As a current staff, you may be offered a new job contract and asked to sign it by your employer. New contracts come with new conditions or clauses.
If you are already a permanent employee, you cannot be forced to sign a new contract, and you cannot lose your job if you do not sign it. Any variation to your current contract must be by agreement. Of course, it depends on the nature of the clauses in the new contract. For example, if the new contract is giving you something you fancy, like a pay increase, then you may be attempted to sign it. However, a modern award may seem inoffensive, but it can affect your leave days, school holiday entitlements, allowances, etc.
3. Never signed a contract of employment
It is prudent for employees to sign and return a copy of their written agreement. The ambiguity of what has been agreed between an employee and employer can be avoided if the employer has a written copy signed by the employee.
However, if you never signed the contract it does not mean that the terms of the contract do not apply, the employer cannot cite the failure to change the conditions of the contract, and the employee cannot argue that since they never signed the contract, they cannot execute duties under it.
4. Do I have to sign a contract of employment?
Employers may offer you both written and verbal contracts. Most bosses will require you to sign a contract to clear any ambiguities.
However, it is not a must for you to sign the contract. No statutory obligation requires having the written statements or contracts signed. Once you have accepted the job, there is a legally binding contract of employment between the employee and the employer. It does not need witnesses or their signature to make it valid.
5. What happens if I don't sign my employment contract?
Contracts of employment form the basis of working relationship between the employer and employee, but if the contract remains unsigned, it does not give either side a chance to change the provisions.
A contract starts when as an employee, you accept the employment offer. If you do not agree with the terms of the contract, you should show it by writing to the employer explaining which parts you do not agree and why. If you start working for the company, you should explain that you are doing it under protest. However, if you refuse to sign before commencement with no reason, then the agreement is reached that you cannot be considered an employee of the employer.
6. Questions to ask before signing a job contract
For instance:
What is the job description?
Does the contract prohibit me from doing any other side job?
What are the noncompeting clauses?
Does it prohibit you from doing business with people you have worked with while on the contract?
If the company is sold does the contract remain?
What is the job security?
7. Should an employment contract be in written form?
There is always contract between an employee and an employer. You may not have anything in writing, but a contract still exists.
Your agreement to work for the employer and their consent to pay you through a verbal agreement forms a contract. Contracts can be verbal agreements.
8. Can the employer change the employment contract without consulting the employees?
As an employer, you have some employment rights which must be agreed between you and your employer in a contract.
The employer cannot change the terms of the previous contract without an agreement from the employee. If the employees are under collective employment, then a negotiation with the union is necessary before making the changes.
9. How long do I have before signing a contract of employment?
You may want to take time before signing a contract.
While there is no hard and fast rule, three business days is acceptable as a reasonable and fair amount of time for you to review the employment contract and seek advice on its meaning.
10. If I haven't signed the contract, is the job mine?
You may have done the interview, and you are now waiting to for an official confirmation. You may also have been confirmed in a post but haven't signed the contract yet.
If you are not confirmed, after the interview, the employer may decide to give the job to another person. The company may have realized that they cannot afford to hire you. However if you have already commenced the job and you received a verbal agreement, then a contract exists between you and the employer and the job is yours.
Part 2

The Most Secure Tool to Sign Contract of Employment

You may be looking to sign your contract documents in digital formats and wondering how you can do this. Well, there are a number of tools to help you out! One such tool is SignX, a software that is fast building its name in the world of digital signatures. As a matter of fact, SignX offers one of the fastest, secure and legally binding electronic document signing platform. It gives you a chance to digitalize every decision of your business, workflow, and approval. The beauty is that SignX comes with a lot of compelling features to help you manage and digitalize your documents.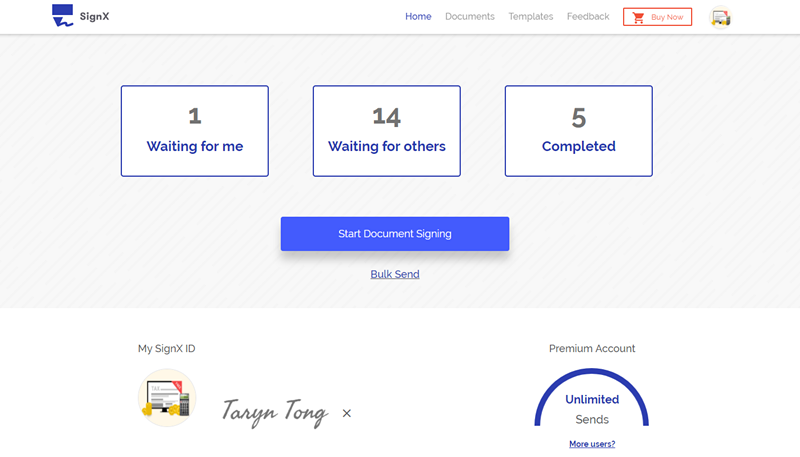 It gives you a chance to use legally binding signatures such as signing employment contracts. You can apply signatures that are legal and as enforceable as the written ones. SignX ensures the highest level of compliance with the most onerous regulations by most countries and labor laws.
It ensures a simplified document management. You can keep signatures moving and monitor the ongoing deals from the comfort of your office.
It allows you the strongest commercial SSL encryption protocols to help protect your documents.
You can get the tools you need to modify, personalize and deliver documents. You can prepare the document with drag and drop fields.
Uses a 2-factor authentication code to help secure sensitive documents.
It helps streamline workflow and drive document productivity.
In conclusion, always keep in mind that employment contracts are legally binding whether written or verbal. This is why you should always try to understand every bit of clause in the employment contract and ensure that you use the right tools to sign your digital contracts.