1. SignX
Wondershare SignX is the kind of online electronic signature software that needs no demo video or prior instructions. As soon as you simply log in, you will find everything you need in front of you. There is no clutter in the interface and it is extremely easy to use. SignX comes packed with editing, high-end security, tracking features and much more, at the same time being very affordable. SignX is the best DocuSign competitor and our first choice. Tried and tested rigorously.
Pros:
Audit trails that lets you trace the document & signer
SSL encryption and password protect for document security
Easy, step-by-step process
Offers a free trial and cost-effective price for business
Sends notification every time your document is opened
Tamper proof technology and bulk sends
2. Adobe Sign
Adobe Sign (Formerly EchoSign), is also a DocuSign competitor software using which you can securely insert your e-sign to important contracts or documents. You can use any device to insert signatures. You can use Adobe Sign on your smartphone, laptop or tablet. It enables sending, tracking and signing your document.
Pros:
Integrates with Salesforce, Box, and other apps
You can sign from any internet enabled device
Management of your documents is easier
Cons:
A very pricey software
Might have to pay for upgrades
You can sign at either the start or the end
3. Nitro Cloud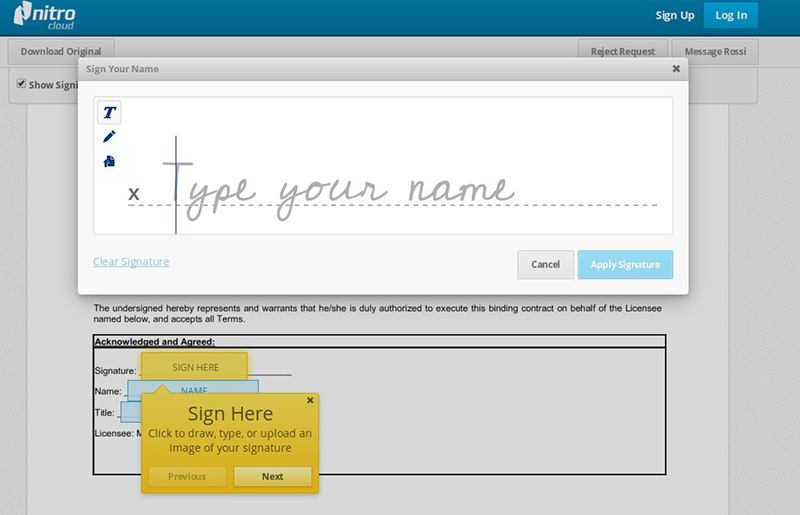 Nitro Cloud is another DocuSign competitor that helps in the collection of legally binding signatures on important documents without any fuss. It is also one of the easy and fast ways to sign and share important documents, at any place or time. The security of the documents is not compromised with.
Pros:
Any internet enabled device can sign & send documents
Can be integrated with cloud storage
Can also create PDF files
Cons:
Comes at a comparatively big price
Slow in loading large PDF files
No support for Android smartphones
4. HelloSign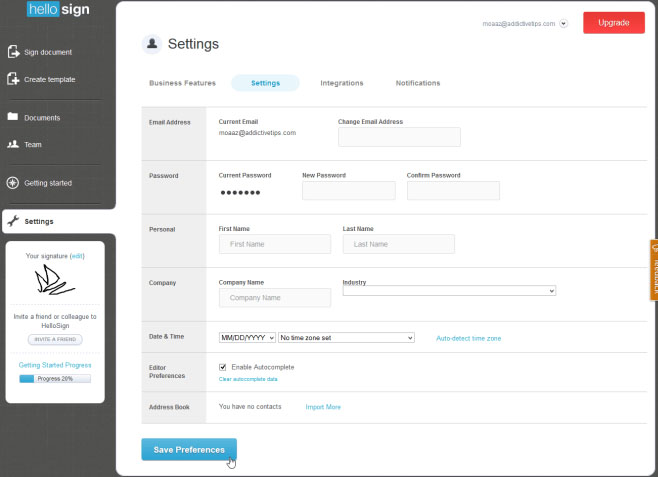 HelloSign is also an electronic signature solution that enables you to decide where each of the participants will sign. You also can assign the order in which you want your document signed. HelloSign is famous on the internet for its user-friendly interface. However, it's much less used than its competitors.
Pros:
Create, save and reuse templates
API integrations option
Get notified of document status
Cons:
Free trial lets you send just 3 documents
Proves to be comparatively costly
5. Authentisign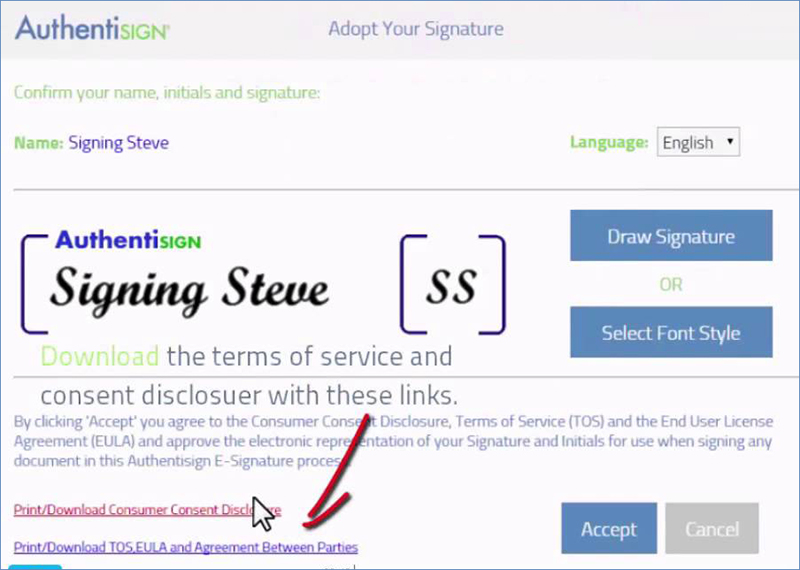 Authentisign lets the user enter a secure website where they can upload, electronically sign and send their documents for signing to parties involved. Documents are safely stored on this server. It is mostly the top choice of realtors and brokers because it can fully integrate itself with real estate forms and contracts.
Pros:
No complexity in inserting e-sign
Design and edit templates as you choose
Needs no download, is browser based
Cons:
A comparatively pricey tool
If you change font, it changes everything written
Problems in inserting big text
6. eSignLive
eSignLive also provides e-sign technology to different companies. All that needs to be done is, personalize a template of your choice and send it. You can easily send and receive legally binding signatures that contain your particular information.
Pros:
Available on cloud implementation
Offers multi-tenancy
Good product and customer support
Cons:
Needs additional flexibility
Can use more ADA capabilities
Comparatively costly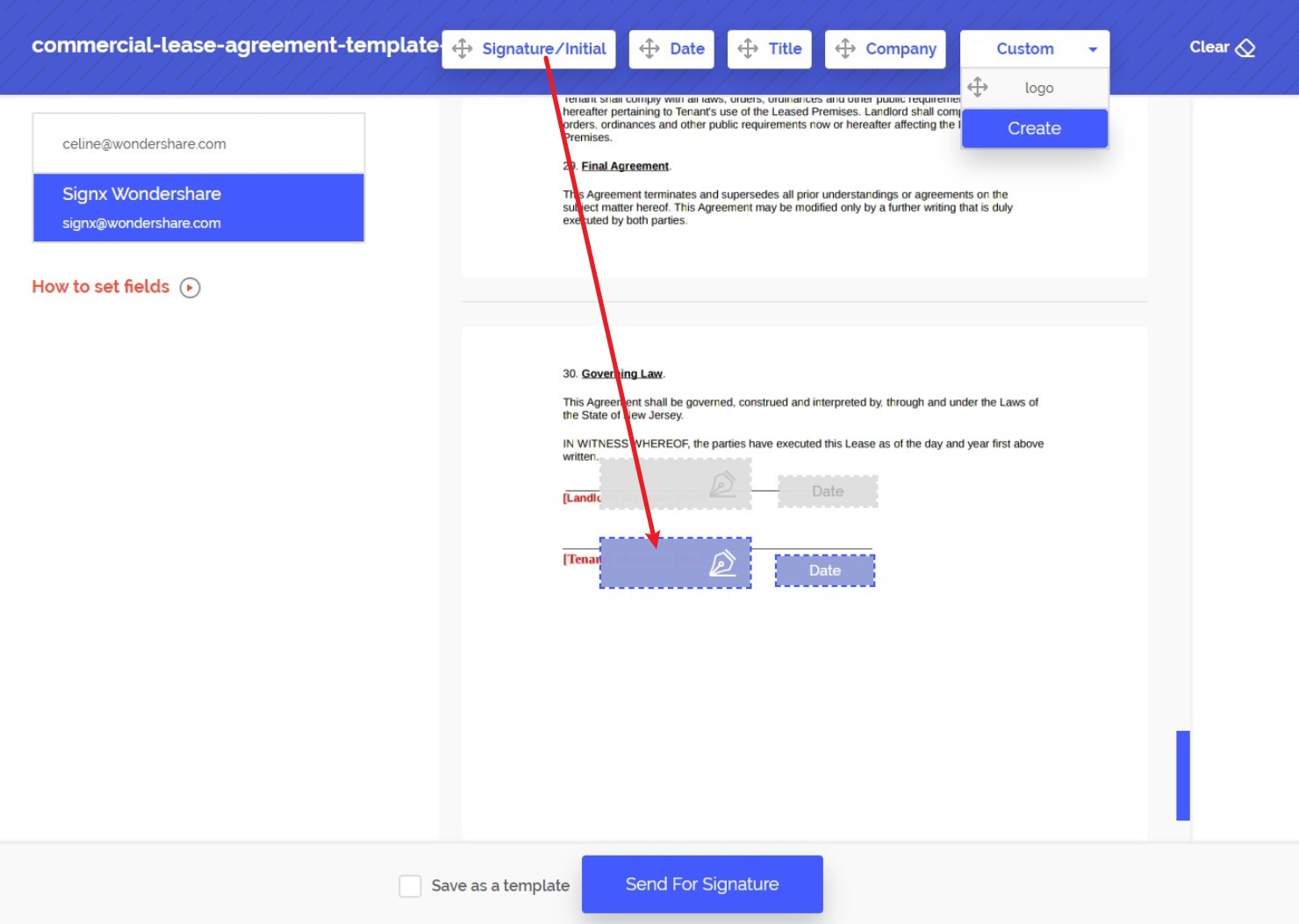 Step 2: Set Signature Fields for Recipients
After the upload is complete, add "Access Code" if you want. If not, click "Next". Now you can add emails of all parties. After entering one email, click the (+) sign to add another. You can decide if you want to "Sign First" or "Sign Last" at this stage. After clicking "Next", you can add a message for your recipients for their better understanding. Click "Next" and you will reach the final page. Here, you will have the names of all parties on the left. Click on each one of them to assign a location where they will insert their signature.
If you want to add your own signature, simply drag and drop it on the signature position you have selected for yourself.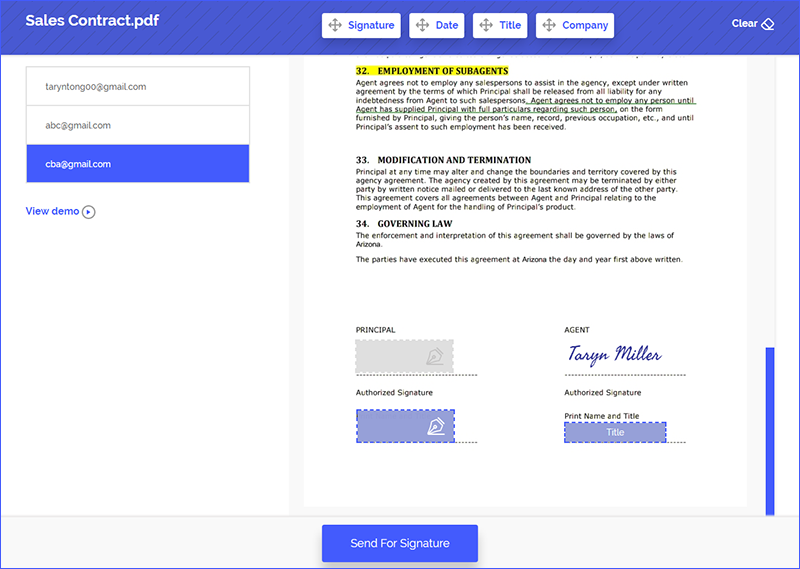 Step 3: Send for Signature
After assigning signature positions, click "Send for Signature" and the document will be sent to them to their mail where they can sign on their assigned location and send it right back. If all the parties are informed, this process should not take too long. All the signatures contain signer's information and thus are legally binding.
Your signed PDF files are stored on SignX secure server. You can access them at any time and at any place. You can use any device to access SignX and log in to monitor your documents, keep track of live deals, sign and send them for approval comfortably from your home or office.