A free online contract signing software is essentially a cloud-based application that lets you sign PDF contracts and also send agreements for others to sign. This method of signing and getting your contracts signed is far more efficient than physically sending a document for signing because it is electronically done and, therefore, cuts down the time taken to collect signatures from multiple stakeholders. Although a free online contract signing tool will usually have a limit on the number of documents you can process, it allows you to test out the software and see if you like it before purchasing a monthly or an annual subscription. Let's look at some of the best free online contract signing tools available on the market today.
#1: Wondershare SignX
SignX from Wondershare is most definitely one of the most convenient and user-friendly free contract signing options you'll find online. It is a dedicated free digital contract signing platform for professionals and business users, with reasonably priced pain plans that will increase document limits and add useful features such as bulk sending, reusable templates, customizable fields, etc. SignX is as feature-rich as they come, and some of its key offerings have been listed below.
Features
● The digital signatures created in this online utility are compliant with eSigning regulations across major markets.
● The platform itself is hosted on secure and enterprise-grade servers at Wondershare's data centers.
● The 'send for signing' feature lets you get multiple signatures on a single document without having to circulate the contract to one signer at a time.
● Full control over the signing order.
● Two-factor authentication (TFA)
● Maintain an audit trail.
● Get an instant overview of documents and their signing statuses in the admin dashboard.
● Email notifications sent to signers to keep them up to date.
● Free premium upgrade for admins on Enterprise plans.
Pros
● Free electronic contract signing for a limited number of documents.
● Clean and user-friendly interface.
● Easy monitoring and tracking.
● Affordable upgrades to paid plans.
● Templates that can be saved for future use.
● Rich feature set to cater to all your contract signing needs.
Cons
● Limited document size for free trail.(5MB, 10 pages. Paid license is unlimited.)
#2: DocuSign eSignature
DocuSign eSignature is a leader in the world of digital signatures and offers an impressive host of features to help manage your contract and form workflows. It is a comprehensive toolkit for any type of document that needs to be signed or form to be filled in. It is a cross-device application that gives you full visibility over your documents and their status on any device.
Features
● Support for several file types including PDF, Word, Excel, etc.
● Converts PDF forms to provide signable fields.
● Custom and standard fields.
Pros
● Extremely feature-rich.
● Extensive tools for document and form workflow management.
● Enterprise-grade security for all your files.
● A wide range of file types supported.
Cons
● Expensive compared to other contract signing software.
● Too many features for first-time users.
● Standard and Pro versions are expensive.
● Free trial only valid for 30 days.
#3: DigiSigner
Another free online contract signing software you can try is DigiSigner. Like SignX, it is a dedicated tool for creating digital signatures and sending documents for signing. It also offers some advanced features for pro users, such as the ability to load and reuse templates, set the order of signing, send a CC to another recipient, etc.
Features
● Create digital signatures for free.
● Send documents for signing.
● Use standard and custom fields in your documents.
● Import from cloud locations.
Pros
● Professional-looking interface.
● Adequate learning resources in the form of tutorials.
● Unified interface with dashboard, document view, and feature access.
Cons
● The free version only allows 3 document signatures or sends per month.
● For bulk sending, a template has to be created and then used multiple times.
● A single sender account is relatively expensive.
#4: DocHub
DocHub is a free online contract signing software with other features like PDF editing and also comes with forms and templates you can easily use to create documents for multiple signers to sign. You can send a document to multiple signers or bulk send a document separately to different signers. The free version has a limit of 3 documents but you can upgrade to an affordable monthly or annual plan.
Features
● Create electronic contract signatures for free.
● Send documents for signing.
● Forms and templates available.
Pros
● Easy step-by-step instructions for signers to follow.
● Multiple signatories can be added to a document.
● The free plan (3 requests per month) upgradable to an affordable paid plan.
Cons
● No bulk signing feature available yet.
● The signing order cannot be set.
Top 5 Free Online Contract Signing Software Applications Compared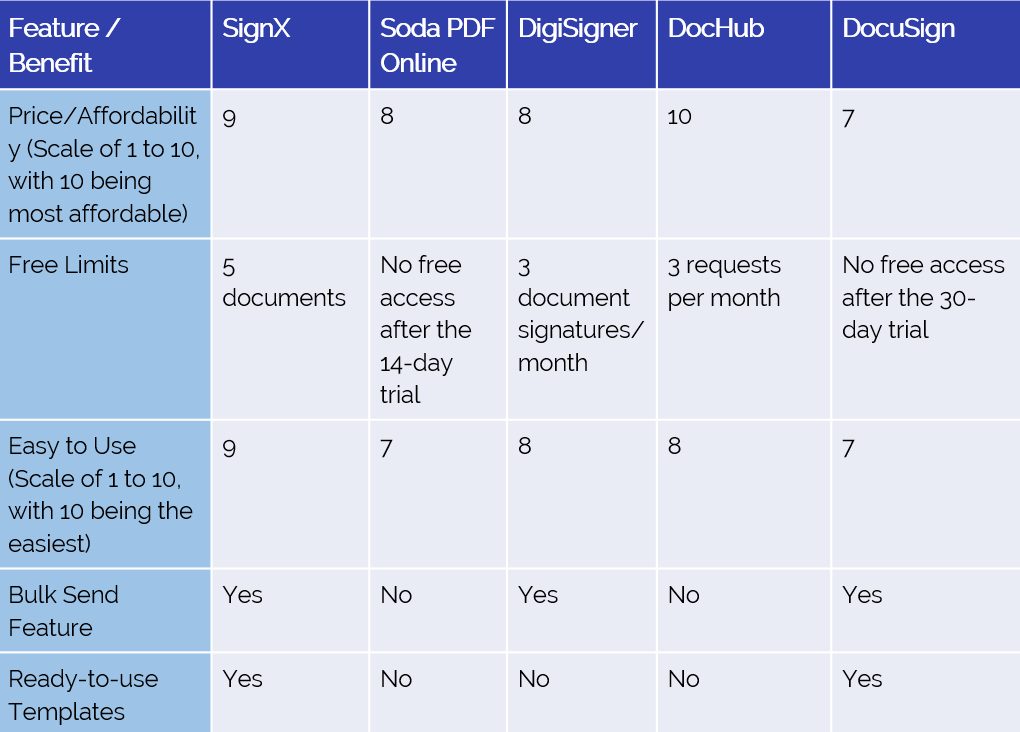 ---
Video on How to Sign Your PDF File Free Online