If you need to add an electronic signature free on a PDF document, like a contract or an internal company notice, you might have searched the Internet for a suitable solution. While you'll see that there are literally dozens of tools to add an electronic signature free online as well as offline, you should be aware that not all electronic signature software applications or web services have everything you need to properly manage document signature workflows. Below are a few of the best electronic signature free software applications you should consider to complete your document workflow management software repertoire.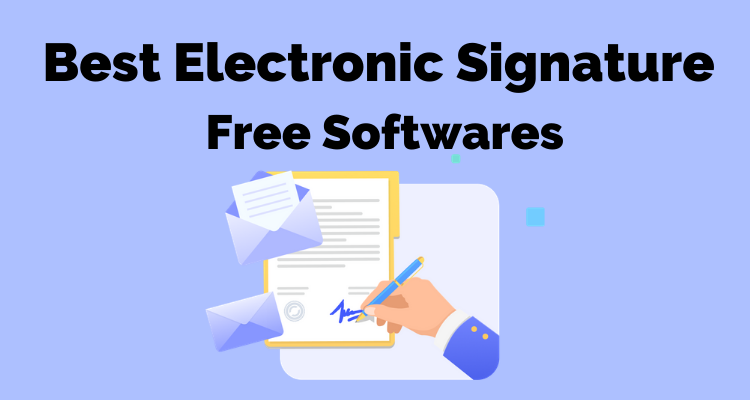 Top 5 Best Electronic Signature (Free) Software
The following eSignature software applications are free for a limited number of documents and can be upgraded to premium plans to handle larger requirements. It gives you a chance to try all of them out - i.e., make an electronic signature free - to see which one suits you best. Let's begin.
SignX
Whether you're looking to add an electronic signature free online or send a document to multiple signers or review the audit trail for compliance purposes, this is the software for you. With an easy-to-use interface and all the features you need to sign, send, and track PDF documents that need to be signed by one or more people, this is a top-rated free electronic signature software.
Pros
● Easy to create an electronic signature free
● Send to multiple signers (bulk send) and track progress on a dashboard
● Simple interface with powerful eSignature utilities
● Most affordable option if you decide to upgrade
Conclusion: Best choice for small to medium-sized businesses looking for an affordable option. Ideal for individuals to use for free to sign documents whenever required.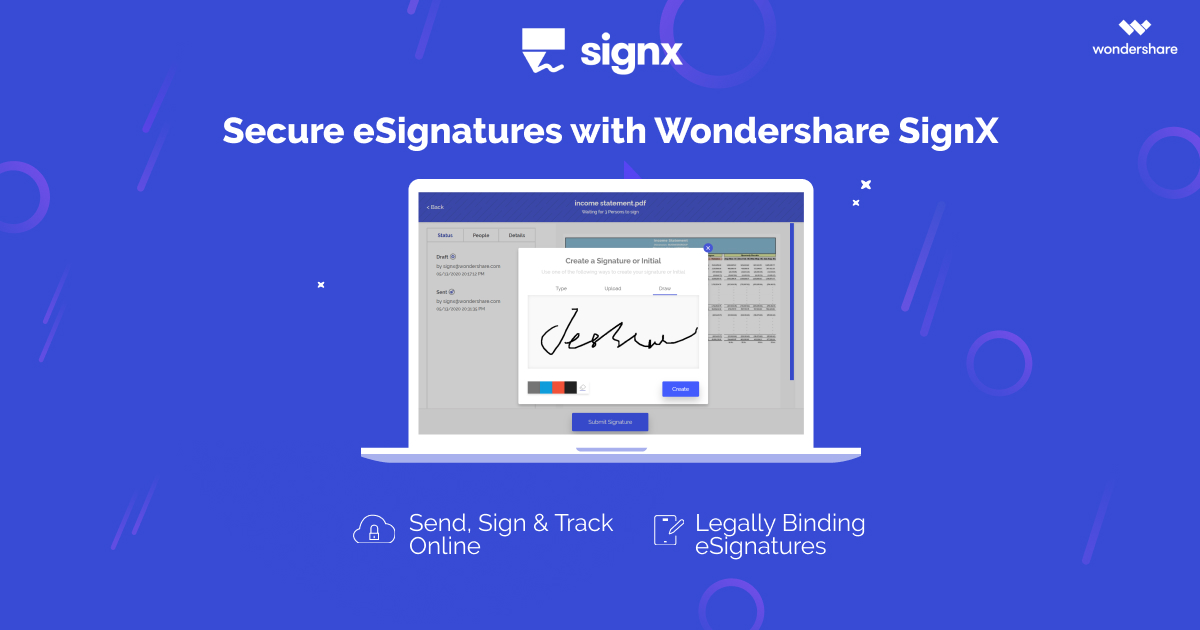 PandaDoc
Another versatile utility is PandaDoc, which has an expanded feature set that includes document workflow automation, integration with Salesforce and other apps, and a high degree of personalization.
Pros
● Packed with features for handling document workflows
● Integrated with useful third-party tools for greater functionality
● Unique feature tracks how much time between sending a document and the signature being added
Cons
● Feature set might be overkill for simple eSignature requirements
● Priced higher than many premium eSigning applications
Conclusion: If you're looking for functions other than eSigning and a high level of customization and other options, this could be the ideal tool for your organization.
SignRequest
SignRequest offers a lot of additional features like controlling the signing sequence, making attachments mandatory, and so on. It also integrates with Google Apps and a host of other applications from third-party developers like Salesforce and TOPdesk. The API allows for CRM and website integration with a lot of flexibility.
Pros
● Smooth flow for sending and signing
● Cross-device support
● Email reminders for pending signers
Cons
● Templates are not easy to reproduce
● Some known integration issues with Salesforce
Conclusion: The integrations and special features make this a serious electronic signature software application to consider.
SignEasy
If mobile eSigning is a large part of your workflow, this is an ideal app. The app allows in-person signing, self-signing, and remote signing as mobile options, making it a convenient tool to have when you're on the move all the time. Ideal for field sales executives, as an example.
Pros
● Strong portfolio of mobile features
● Email and push notifications to remind signers
● Integration with cloud storage services and third-party applications
Cons
● No free version other than the free trial period
● No desktop version
Conclusion: The mobile-only ecosystem is ideal for field staff; the bulk of features are geared toward this platform.
eversign
One of the main advantages of using eversign is the ability to edit your PDFs after uploading them. Aside from this, it offers flexible features like managing multiple businesses in the same account, in-person signing across device types, contact management for frequent signers, etc.
Pros
● Robust features across devices
● REST API to automate processes
● Deep cloud integration
Cons
● The interface is a little complicated for first-time users, according to reviews
● Reviewers say that document downloads can take up to 15 minutes
Conclusion: Robust eSignature tool if you're looking for a cloud-friendly platform with advanced and flexible features.
The Best Electronic Signature Free Software
SignX is a standout eSignature application with a higher free limit than most other tools. It is also more affordable and makes the signing process easy. In addition, there are tracking and bulk sending features that can increase team productivity and speed up the signature-collection process when a large number of stakeholders are involved. The bulk send feature is of note, and the process is described in the following section.
1. Register a free account and log in to SignX. You are now ready to upload your document for the bulk send process.
2. Drag and drop the PDF into the space provided or click the button to import the file. You may review the document to make sure everything is in order. Premium users will have the option to add an access code that signers will need to enter in order to open the document for signing. Click Next when you're done.
3. The email IDs of the signers can be added using a CSV import or done manually. If there's a specific order in which the document needs to be signed, that can be done at this point with a simple drag-and-drop rearranging. There is also an option to add yourself as a signer, either first or last.
4. Once that's done, you can add a message and a subject line for the email that will be sent to the signers. Hit Next, agree to the terms and then click Continue.
5. The final step is to drag and drop the signature, date, and other fields where you want them to go on the document. That done, just click Send for Signature and the job's finished.
As you can see, the bulk send process is quite simple even though it's normally a complex process. That, and the fact that it is one of the most affordable professional electronic signature free utilities available for business use, makes is a compelling product to try.
---
Video on How to Sign Your PDF File Free Online