Top 5 Digital Signature Makers
Every year, we see more and more businesses moving to the internet, to a world of paperless office. Simply put, they are moving from the standard world, to the digital world. And that is great, no arguing there. One thing that makes your company, and your profile stand out in the digital world is a digital signature maker. There is no way around it. When you want to send and share documents online, you need a digital signature maker that will provide you with a signature that is legally binding, but also professional-looking. That being said, we would like to introduce few of the solutions you can try.
Top 5 Digital Signature Makers
1. Wondershare SignX
Let's start with what we believe is the best digital signature maker on the market. The product in question is Wondershare SignX. What makes it such a great product? For starters, this is the best cost to value product you can find. For the price you pay, you get great value. Some of the main features of SignX include creating digital signature easily, signing documents based on your needs, get signature from others fast. And the best part of it all is that all the documents are legally binding.
Pros:
Three types of digital signature
Ability to edit documents in any way possible
Quick and easy way for signing and sending documents online
Real-time notifications for the whole signing process
Highly responsive customer service
High security level with a state-of-the-art SSAE-16 and ISO 27001
Multiple users can be added or removed on your account
2. RightSignature
RightSignature is the next digital signature maker on the list. Again, you can use it to create signatures easy and fast. The software comes with an intuitive user interface, and makes sure that you get the same pen and paper signing experience. You can use it in any web browser, and also on your iPhone or Android smartphone.
Pros:
Extremely clean user interface
Everyone gets a copy of the signed documents
Very helpful customer service
Cons:
You cannot import PDFs, making templates complicated
You cannot merge PDF documents into one
The words on the screen are relatively small and hard to read
3. eSign Genie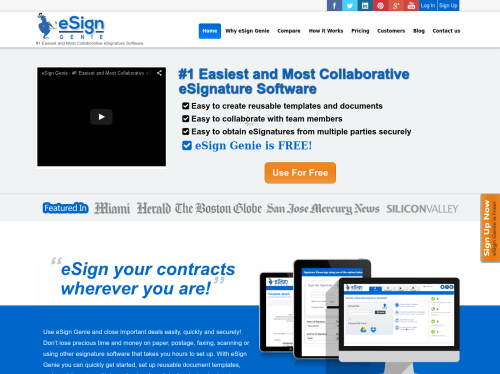 With eSign Genie you can sign a bulk of documents. The digital signature maker allows you to sign single or multiple documents. The app is secure, and reliable web application. The platform comes with a number of ready templates that you can use. For example, you get an employment agreement, stock option certificate, bill of sale, sublease agreement, liability waiver, nondisclosure agreement, and many more.
Pros:
Quick and easy to use
Text feature stores your folder with all steps leading to the signing
Pay as you go feature is great for individual businessmen
Cons:
It can take time and be little confusing to understand backend arrangement for documents and templates
Some instructions are not very clear, for example, "how to edit document"
4. SkySignature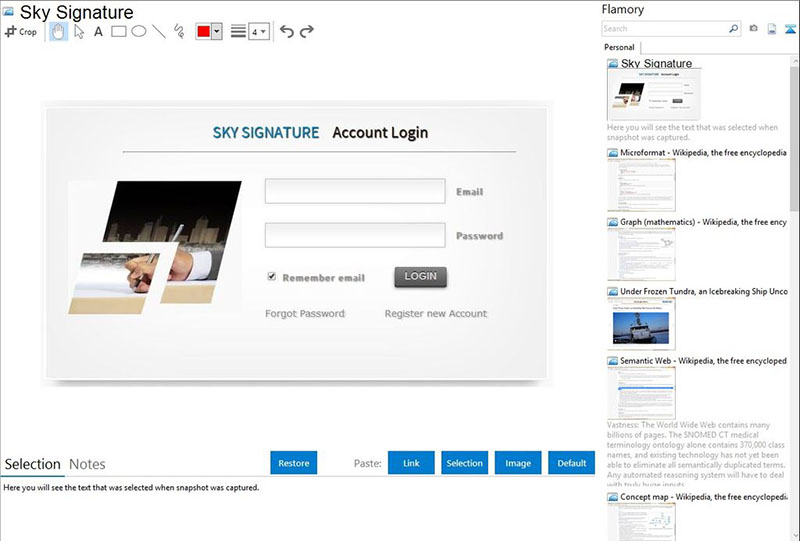 SkySignature excels at simplicity in signing documents online. One of the nice features of the digital signature makers are the tags like "Sign here", "Name here", "Initials here", and similar. You can create PDF documents from existing documents, or from scratch. The software comes with the basic features and editing tools. Not many advanced features though.
Pros:
Straightforward and to the point. There are no useless features, making it simple to use
Free trial
Bargain price compared to other/similar companies
Cons:
No mobile app, but developers are working on it
No templates
Lacks advanced features like redaction and encryption
5. SignaShare
Last, we have SignaShare, a digital signature maker that you can use to create forms and manage transaction processes. With a number of templates, SignaShare is focused towards finance and economy businesses. However, any other business type can use for signing documents.
Pros:
One feature that stands out is layers
You can add online forms directly to your website
Auto-fill documents with necessary information
Cons:
Lack of user manual makes it hard for users to understand and use all features
No phone number for communication
Out of the five tools mentioned above, we would like to single out Wondershare SignX. What makes this application the best is the cost-effectiveness. Compared to other products that do similar job, or have even less features, SignX excels at providing users with all the tools needed in the digital world. Security of your documents is guaranteed by two-factor protection. You can also encrypt any document you want, or use redaction tool to remove info for legal and security purposes. When you think of an application you want to use for signing documents, you always want something you can use anytime, anywhere. And SignX makes that possible. Thanks to the mobile app, you can sign documents as you go. As long as you have internet, you can sign the document, and view the signing process.