Top 5 Free PDF Signers to Sign PDF Free
Signing your PDF document electronically makes everything easier. It makes it easier for your customers to say yes to you and makes it easier for you to say yes to your business associates and suppliers. But being able to sign PDF for free is rare enough that most people try but never find a free PDF signer.
Free PDF signers do exist and some of them even have really good features that help you sign PDFs with ease. In this article, we are going to be looking at some of the best free PDF signers in the business.
Part 1

Top 5 Free PDF Signers to Sign PDF Documents Free
1. Wondershare SignX
Wondershare SignX offers you the best way to create and use an e-signature. The online service is easy to use and allows users to sign PDF for free in under 5 minutes. All the signatures that you signed are all legally binding and enforceable just as the physical signatures. It is the ideal signature service to use on the go since all features are available on just about any device including mobile devices.
Pros:
It saves you money that would have otherwise been spent sending physical documents for signing
It is very easy to use even for beginners
It offers top level security to ensure that you can safely sign even the most important business contracts
Sign PDF free with the best service
Two-factor authentication to keep your PDF and signature safe
Multiple users can share a single SignX account
2. PDFelement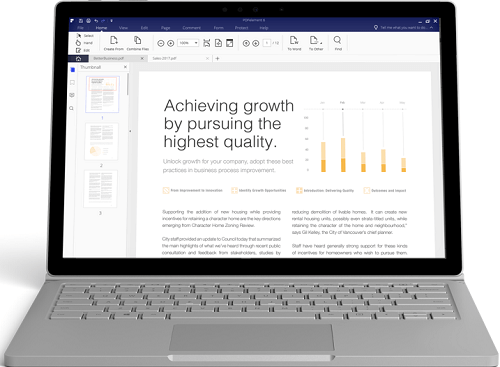 Another really good option when you want to sign PDF documents is PDFelement. The program allows users to more than just sign PDFs. You can use this all-round PDF management program to edit PDF text and images or even use it to convert PDFs to a variety of other formats including Word, Excel, PowerPoint and more. But perhaps one of its best features is the fact that it can be used to create PDF in just one click or the fact that it comes equipped with OCR to edit scanned PDFs.
Pros:
It offers you an easy way to make significant changes to your PDF document
It is easy to use
It also offers protection features in the form of passwords
Has OCR features to turn scanned PDF into editable texts
Protect PDF files with password, permission and digital signature
Sign PDF for free in the trial version
3. eSign Genie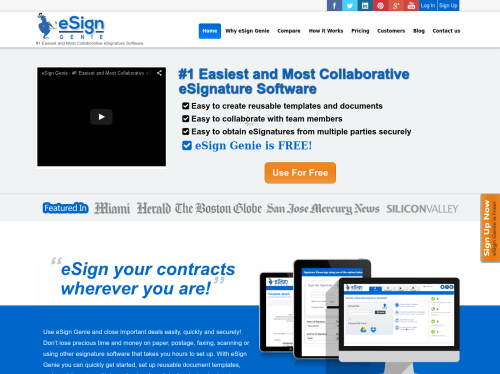 This signature service is popular for being really easy to use and the fact that it comes with reusable templates. You can use it to sign single documents or send to multiple signers. This nearly free PDF signer also integrates with -third-party APIs to make it convenient for you to use with all your other business related apps.
Pros:
It is very easy to use
The premium version is very affordable, staring at $2
It integrates with most third-party APIs
Cons:
Doesn't offer any additional security features
4. GetAccept
This is an online free PDF signer that offers both document signing and document tracking. As such it is a valuable tool to have when you want to save time and do all things sales automation related on the same program.
Pros:
It offers document tracking as well as eSignature services
Also offers video introduction services
Document analytics is also a feature of GetAccept
Cons:
It is a little difficult to use especially for the beginner
Some of the really good features are not available on the free version
5. SignaShare
SignaShare is another e-signature service that you can use to not only sign documents online but also create and fill forms. It comes with a lot of templates to choose from, making the whole process that much easier. The free PDF signer also offers a multitude of other features including the ability to create fillable documents, add merge tags and create eSignatures that you can then use to sign the documents.
Pros:
The fully customizable templates make it very easy to use
It also offers document tracking services
Integrates with third-party applications
Cons:
Some of the features are not available on the free version
Part 2

How to Sign PDF Free of Charge

The following is a simple tutorial to help you sign PDF free using Wondershare SignX.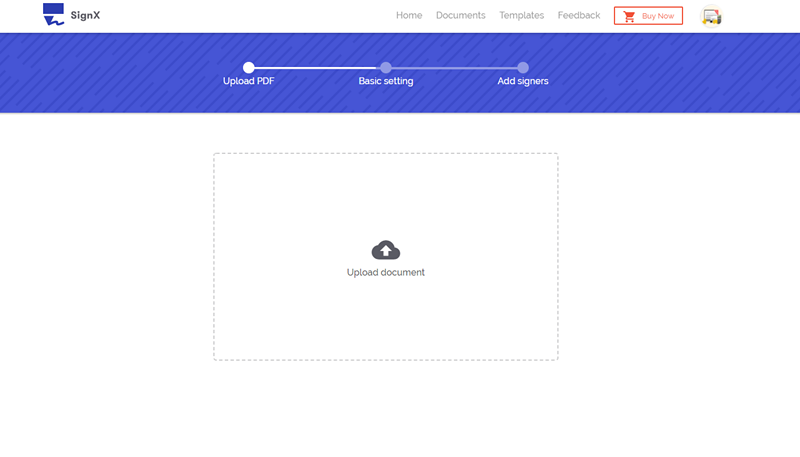 Step 1: Upload the PDF
Create an account if you don't already have one and then sign in. Click on "Send New Document" and then click on the plus sign to browse your computer for the PDF you want to sign.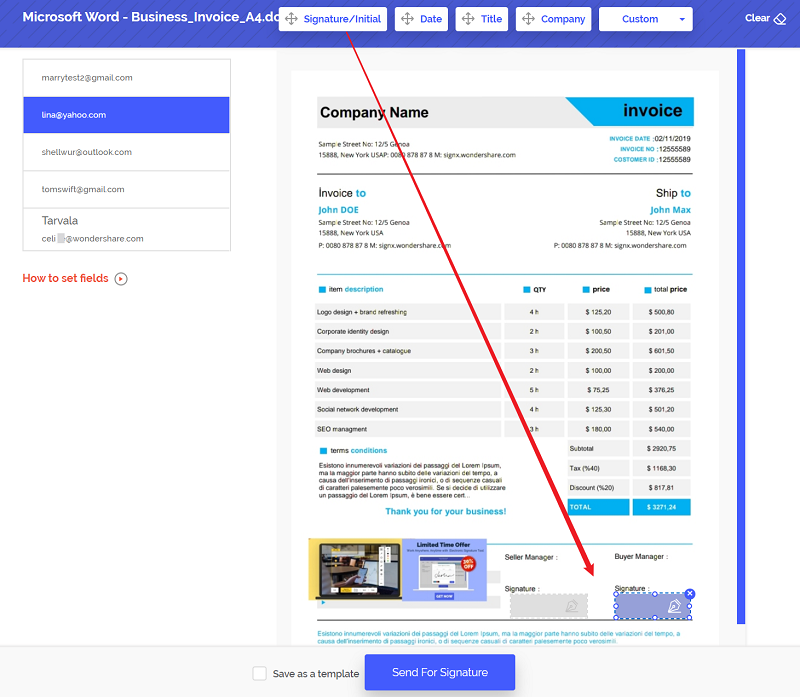 Step 2: Sign PDF Free by Yourself
Once the document has been uploaded, the program will ask you to enter the emails of the recipients to sign the document. Because you need to sign the document as well check "I need to sign the document" and then click "Next". Click on the "Signature" tab and then drag and drop your signature to a location within the document.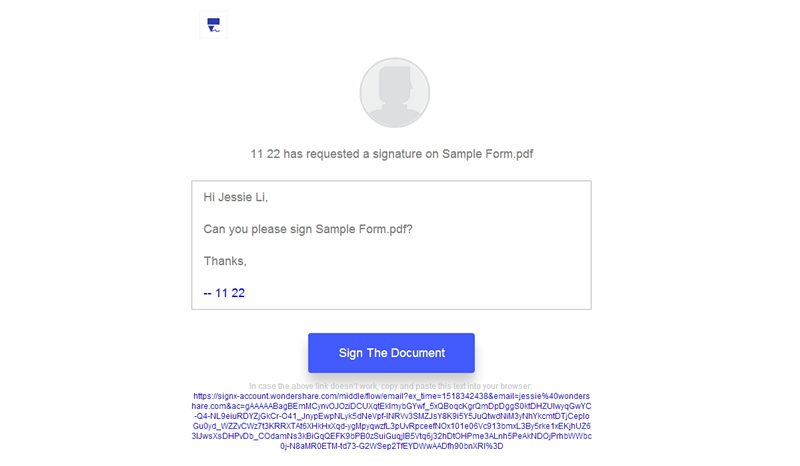 Step 3: Recipients Sign PDF for Free
Add the recipients email addresses and then click on each email address to drag and drop the signature tab where you want them to sign. Once they have signed, the document will be marked "Completed" on the dashboard.