6 of the Best RightSignature Alternatives and Competitors
RightSignature is certainly one of the best e-signature software solutions in the market but there are other great RightSignature alternatives and competitors closing on that spot at the tip of the pyramid. So, are you looking for the best RightSignature alternative? Well, we have done some digging for you and in this article, we will review some of the best alternatives that you could leverage to streamline the way you handle digital documents in your enterprise.
Top 6 Alternatives to RightSignature
First, if you have no idea what e-Signature software are all about, then they are simply software tools that facilitating the creation of legally binding signs in digital documents. In other words, they simulate those stamped seals and handwritten signatures you use in your business to signal agreements. The only difference is that the world is now going paperless and that is why e-signature software is growing vital. Let's now take a look at some of the best RightSignature alternatives you can use to create these signatures.
1. SignX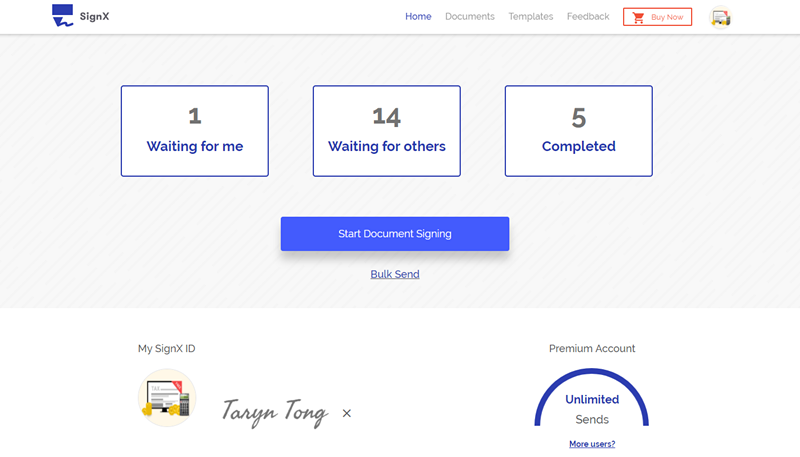 SignX has got to be the first on this list and it's not by a fluke. It has been designed to deliver a 360-degree functionality that allow users to sign, send and even track their documents. The RightSignature alternative has one of the best UIs of all the software on this list, meaning that you will not only sign documents digitally but you will also manage them in one place and surely save time doing so.
This has been made possible by an easy to use dashboard where you can sign the documents with versatile signatures and even track when they are opened or signed. The company is also planning to introduce reusable forms into the platforms just like in the case of RightSignature, a feat that will cut the time taken to create and have documents signed, translating to faster business processes.
2. Adobe eSign Services
You must have heard of Adobe unless you live somewhere in a cave! Let's just say Adobe has been a mainstay when it comes to document handling and it is thus no surprise that they are also among the best in handling digital signatures. Perhaps the coolest aspect of Adobe eSign is the integrations that are possible with the likes of Salesforce, Workday, Microsoft SharePoint, SAP Ariba, and other enterprise apps. And yet, the RightSignature alternative is so much more than signature processes as it lets one create work flows in a drag and drop manner thus enabling users to automate workflows.
The only con here is the Adobe eSign services is a bit expensive but definitely worth it!
3. DocuSign
DocuSign Electronic Signature services lets you sign every type of official document in a matter of hours and from any device, anywhere! With this RightSignature competitor, you are bound to finish any type of approvals, agreements, and transactions in no time. There is a DocuSign API that allows you to embed digital signatures into your own applications. DocuSign is secure plus it can be relied upon to streamline business processes.
DocuSign however also not that affordable from the perspective of small enterprises.
4. SignRequest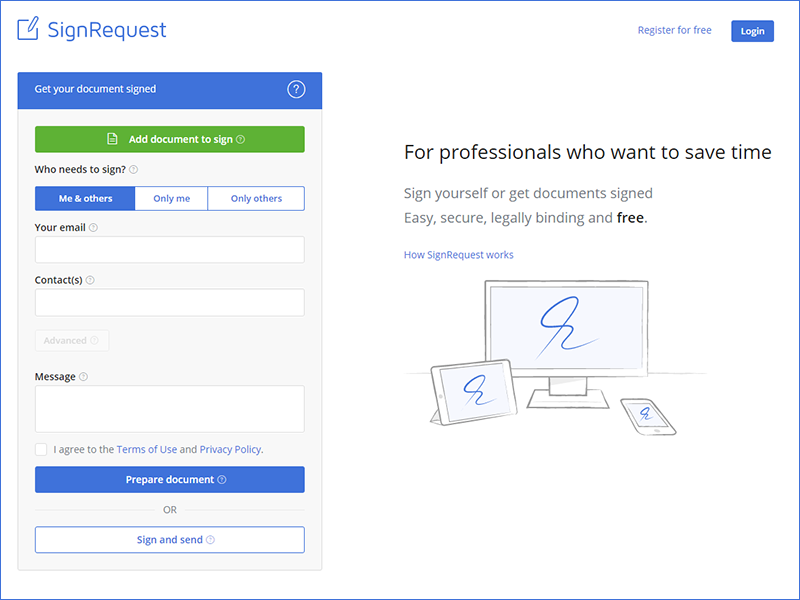 This another very nice e-signature service worth a place on this list. The tool lets you speed up deals in the world of business through fast digital signatures hence leading to better conversions. The RightSignature alternative also lets you manage all contracts from one portal-where you are able to track your document flow. This way you will know those who viewed or signed a document then you can make data driven decisions e.g sending out reminders etc.
The software is perfect for small and medium enterprises but falls shorts when it comes to serving very big enterprises.
5. eSignLive
If you are looking for an e-signature provider tailored for every size of business then eSignLive is one of the tools worth trying. It has an optimized signature workflows crafted to suit any type of device be it mobile devices or PCs. Moreover, the RightSignature alternative leverages some advanced security algorithms to encrypt every signature from every user. It also has an API in case you need to embed e-signatures in your applications.
The negatives? It is sort of needs more robust ADA capabilities.
6. HelloSign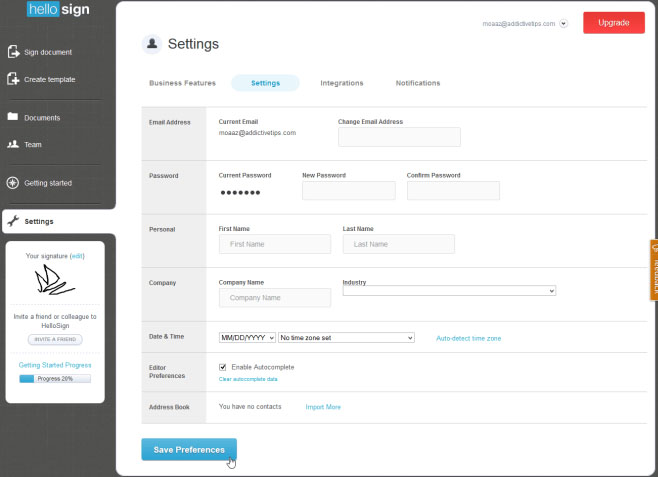 Last but not least, there is HelloSign. This is an e-signature service that allows you sign documents and even request signatures from up to 20 other users. This RightSignature competitor gets even better as HelloSign has gone a notch higher and added team management tools that you can use manage your teams. You can also spice up things with some branding in the form of adding your logo, brand colors not to mention that there are templates to help automate those repetitive signatures. HelloSign has also integrated security algorithms to keep files safe in transit and in storage. This coupled by an API and simple integrations like integration with Google Drive and Google Docs, makes HelloSign a top draw e-signature solution.
The only negative aspect here is that the integrations are a bit limited meaning that you won't find integration with other top business software like SalesForce.
Now, this is just the tip of the iceberg as there are lots of great RightSignature competitors out there. That said, the 6 options stand a cut above the rest in the realm of features or one can simply say, they have been tested and proven!