Learn EchoSign Pricing and Get the Biggest Discount
EchoSign offers a free 30-day trial. And if you like the product, you need to subscribe to annual EchoSign pricing. Whenever you are choosing a product you need to pay for, the first thing you need to consider is how much it will cost you in the long run. And are there better and cheaper alternatives? To understand that, we need to take a look at Adobe EchoSign pricing, and learn the plans.
Part 1

An Introduction to EchoSign Pricing
There are three types of pricing at EchoSign, individual, business, and enterprise. Let's take a look at each different plan, so you can understand which one is best for you.
Individual: The first one is individual. You will have to pay $9.99 per month for a full year subscription. The individual plan is the only one that offers monthly subscription as well. However, if you choose to pay monthly, the price goes up for 50% up to $14.99 per month. The individual plan comes with the standard features: send documents for signing, a mobile app support, track and manage documents, and add signature and form fields.
Business: The business plan is the next one, which costs $30 per month for a full year subscription. In addition, you need to sign a three year contract, meaning you are tied up with EchoSign for three years. Some of the extra features in the business plan are custom branding, embed forms in your website, two-factor identity verification and the ability to manage user settings.
Enterprise: The enterprise plan is custom made, and it depends on how many users you want, and how long you will use EchoSign. Some of the exclusive features include premium support, reusable templates, API integrations and much more.
Shortcomings of EchoSign Pricing
There are many shortcomings of EchoSign pricing, but these are some of the most irritating:
You have to sign long contract
You cannot add individual users to your plan, you have to upgrade your entire plan
No discount for paying a year in advance
Only the individual plan comes with a monthly subscription, meaning you cannot test it for few months before deciding whether to use EchoSign or not
Part 2

Cheaper but Better Alternatives to EchoSign

As mentioned previously, EchoSign can be a bit pricey when compared to the competition. A price of $15 per user monthly (if you get the individual plan) is more than what others and better tools are charging. Let's take a look at some of the better alternatives to EchoSign.
1. Wondershare SignX
The first and arguably the best EchoSign alternative is Wondershare SignX. Pricing starts at unlimited free trial. With the free version, you are limited to five documents per user monthly. But even the free version comes with audit trail and email notifications. The Pro version starts at $6.99 per month, for a yearly subscription. The enterprise plan is designed for more than 10 users, and the pricing is custom. Here are some features:
Reusable templates even for the Pro version
Optimized workflow allowing single, but also multiple users to sign in the same time
Multiplatform support, allowing you to sign documents from anywhere, at any time
Two-factor authentication with unique password code that vastly improves security
Sign and get e-signature with legality
Easily add or remove multiple users in your SignX account
2. SignNow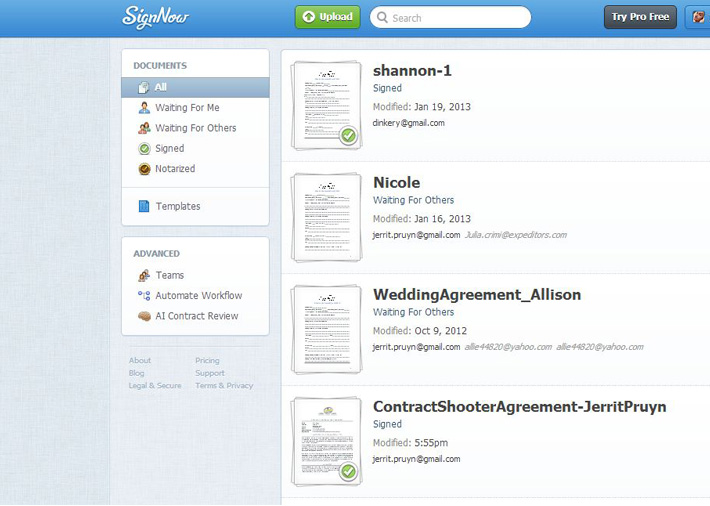 Few years ago, SignNow was known as CudaSign, and was one of the best and most commonly used digital signature software tools. Back in 2012, the app was voted as one of the top 12 apps by InformationWeek. And you can upload not just PDF, but also Word or Rich Text documents for signing. Pricing starts at $5 per month, per user for the basic business plan, and goes to $10 per month, per user for the Pro version. The enterprise pricing is custom. Here are the pros and cons.
Pros:
Multiplatform support for iOS and Android devices
Ability to archive documents
You can import documents from variety of sources
SharePoint and SalesForce integration with premium plans, as well as custom branding
Cons:
There is no signature tracking for the basic version
Cannot import images from Gmail
Phone and email support available only with Premium plan
Lacks premium features
3. SignEasy
A mobile-first solution for electronically signing documents, SignEasy also offers web support. The software is used in more than 150 countries, and comes with an extremely cheap price. Pricing starts at $3.33 per month, per user, and goes up to $8.33 per month, per user for the business plan.
Pros:
Documents can be signed by unlimited number of signers
Real-time email notifications for the entire process of signing
Easy and simple to use interface
Cons:
Loading time can be long when signing documents
No custom branding and company stamps feature
No enterprise plan
You have to sign one by one, no option for multiple signatures at once