An Introduction to RightSignature - Features, Login, Support
Integration of technology in the day to day running of office work has revolutionized the office work reducing the overhead time loss of the daily processes. Communication consumes a large percentage of the office time. It is for this reason that many offices have embraced technology such as emails, faxes, telephones, etc. Among the latest technological entries to the office world is the use of e-signature services. Over the years, getting documents signed has always been a nightmare and one of the main causes of delays. This has been a major drawback regarding time as agreements would wait for a long time to be approved. This article will give you an insight into the world of e-signature services and specifically review RightSignature for any type of business.
Part 1

RightSignature Overview and Main Features
Many people always ask, "What is Rightsignature?" Well, RightSignature is an e-signature service provider that comes in the form of a software. An e-signature service is a product that allows documents to be sent, received, read, signed and sent back. RightSignature is one among many e-signature service providers that provide quality and reliable service delivery to the clients. Founded in 2009 in Santa Barbra, RightSignature has since provided this unparalleled service to its customers. It is one of the most trusted most qualified e-signature service providers with an extensive connectivity and features that make it not only convenient but also efficient to our esteemed clients.
RightSignature is one solution that will enable you to have a "paperless paperwork." Among the excellent features provided by the application include:
Sending and sharing documents: Documents can be sent and received seamless through RightSignature's platform via email, secure link or embedding the document in a website.
Filling the forms: The application also enables the user to edit the document for example by filling in check boxes and tables.
Creating your signature: The application has the unique ability to allow the user to create their signature and sign the documents.
Secure login: Rightsignature provides its users with easy but secure login; this ensures that only the owner and the user of that application will access the documents.
Part 2

Tips for RightSignature Login

If you do not have a RightSignature account, you must first visit https://rightsignature.com/.
On the page, you will be required to fill in your first and last name and submit your email address for a free trial account.
After submitting your email address, you will be required to fill in your company's name, and phone number and a set of terms and conditions will appear which you must agree to proceed.
An email will be sent to you containing a link. Click on the link, and you will have successfully logged in to your new Rightsignature free trial account.
Your email address will be your login username, and you will be required to create and confirm a password.
After completing the above procedure, you will have successfully logged into your Rightsignature account.
Part 3

Tips for Getting RightSignature Support

Using Rightsignature for the first time may prove to be a challenge. Lucky for you, Rightsignature has a robust support system in place for the clients.

Once you've logged into your account, on the right top corner of your screen, click on the help tab and a page will appear containing links to support articles of the frequently asked questions. If you cannot find an article on the exact issue you want to be addressed, feel free to call Rightsignature or send your question directly. RightSignature's contacts are just below the items on that page.
Part 4

Better Electronic Signature Choices

Rightsignature, as mentioned earlier, is one among many companies providing the e-signature services. Other notable companies within this industry include:
1. SignX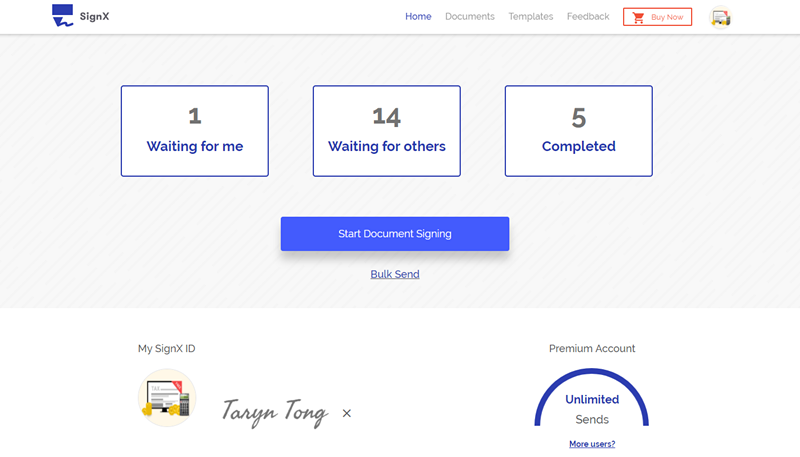 SignX is one of the best electronic signature services, dealing mainly with the signing, sending, tracking and collection of e-signatures. It also facilitates the management of PDF signing on an iPad or an iPhone. All the signatures signed are legally binding and the signing process can be secured by password. The templates feature enable users to upload and share templates to save time. Business can be done quickly using this electronic signature.
SignX is the most cost-effective eSignature service at the market. It has three main price packages: first, there is the free trial version which has limited functionalities. The second package is the premium account, it costs $6.99 per month and the enterprise account. It is an affordable e-signature service its flexible pricing package is ideal for small and start-up businesses.
2. Authentisign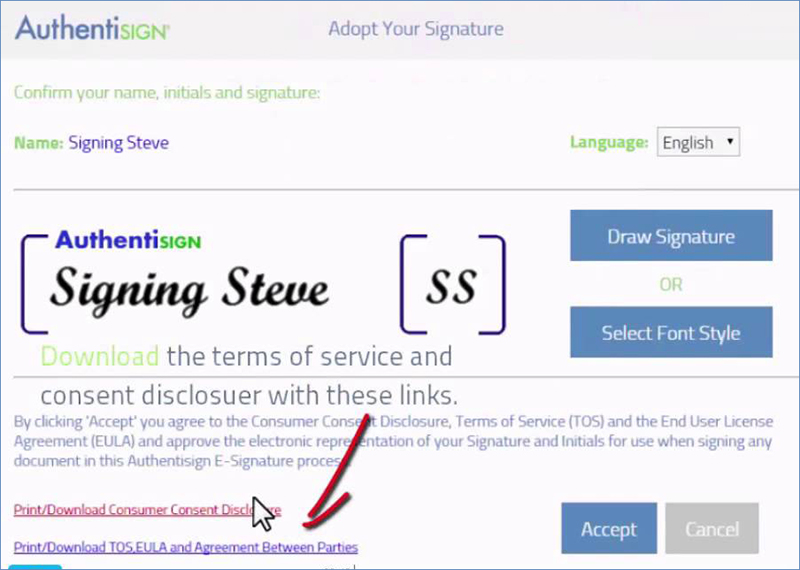 Authentisign is another e-signature service provider. It has more features than most other providers in the market; such features include; the transaction desk, the transaction counter App, the authentisign, internet fax, Internet forms, the broker dashboard and the Docbox for storage of documents. Authentisign has a 30 day free trial for new customers then after that; you can get it at a sale price of $69.00 per year.
The advantages of using authentisign include its affordability concerning pricing and its numerous features which include cloud storage for your documents. It is a fairly good product with excellent reviews and minimal complaints.
3. eSignLive
Just like the other mentioned service providers, eSignLive also provides e-signature services. It has some products such as; the enterprise plan, the professional services, professional plan, connectors, mobile signature and digital mortgage and lending. It has a 30-day free trial where the customer can experience the impressive features free of charge. After the elapse of this period the client, if interested, is expected to enlist on either the professional plan which goes for $20 per month per user or the enterprise plan whose pricing depends on the volume of the processes generated.
Its main drawback is the pricing as it is more expensive than the other signature services. Apart from that, it has great features more suited for big enterprises with multiple users and processes.
Part 5

An Introduction to Rightsignature App

RightSignature App can be freely downloaded from the android play store.

This application, once downloaded to your device, will allow you to log in and start signing documents. The application has three main tabs under the menu button that is the document, template, and settings. These tabs will allow the user to easily navigate through the application. The document tab will grant you access to documents that you have saved. The template enables the user to create and manage templates, and finally, the settings tab allows the user to log out from the account to change users. It also contains other relevant terms and notices from the company.

So, now you know a thing or two about e-signature services that are worth your time and money. The ball is now in your court as you need to make your choices depending on your choice and preferences!