Is RightSignature Safe? How to Secure RightSignature?
E-signature software are fast becoming must have tools for any business handling signifant amount of doucments that need to be signed. Well, they save a lot of costs but the real question many ask is if these software are actually safe to use. This is why you find lots of searches on web pertaining the safety of tools like RightSignature with search terms like secure rightsignature, is rightsignature safe, rightsignature security. In this regards, this article will expound more on the security of one such software i.e RightSignature-telling you everything you need to know about how to improve RightSignature security.
Part 1

Is RightSignature Safe?

Again, many people usually hesitate to use third party tools in handling document especially in cases where the documents contain sensitive data. So, is a software like RightSignature really very safe to use? We will answer this by looking at some of of the security features that RightSignature have implemented to keep client documents and data safe. Basically RightSignature has implemented three ways to ensure that this is attained i.e backups, physical security and online security.
1. Backup Systems
Any data silo must have a back just in case the storage is hampered by technical or physical hitches. Citrix has made sure that data is stored in multiple storage locations to create redundancy thus ensuring that there is minimal interruption when one storage point fails. The data is stored in Amazon EC3 servers which are known to be very secure.
2. Physicial Securtiy
The security of these data centers has also been enhanced physically thus you can be assured that only authorized personnel are given access to the data centers. The AWS team has done so using intrusion detection systems, video monitoring, and other electronic techniques to keep your documents and data safe.
3. Security Online
Security in the RightSignature systems has been enhanced by top SSL technologies which protects data in all the communication paths in and from RightSignature and other endpoints such as the Amazon storage.
These examples show you that RightSignature is pretty secure but at times this may not be enough! In other words, there are other things you can do to enhance security when using RightSignature.
Part 2

Tips for Improving RightSignature Security

The same rules of working with any third party vendor applies when working with RightSignature: Here are some of the tips to ensure you uphold these standards:

• Use Vendor NDAs

If your business deals with very sensitive data then you will have to keep an eye of agreements to ensure that the data does not end up in the wrong hands. Keeping this in mind, you can strike an non disclosure agreements with RightSignature to ensure that your data is always protected.

• Understand the Service Packages

It is also vital to know what you are buying from RightSignature so that you can know what aspects of security you are covered for and most importantly those that aren't covered. This way you will know the things you will need to do on your part to secure your documents and data.

• Boost Your Own Security

Attackers are always on the hunt for the weakest spots that they can use steal data. So, you must ensure that all your RightSignature passwords and usernames are protected on your side so that they don't end in the hands of attackers. You can do so by enhancing network security and securing your website using robust technology solutions.
Part 3

Best Solution to RightSignature Security Problem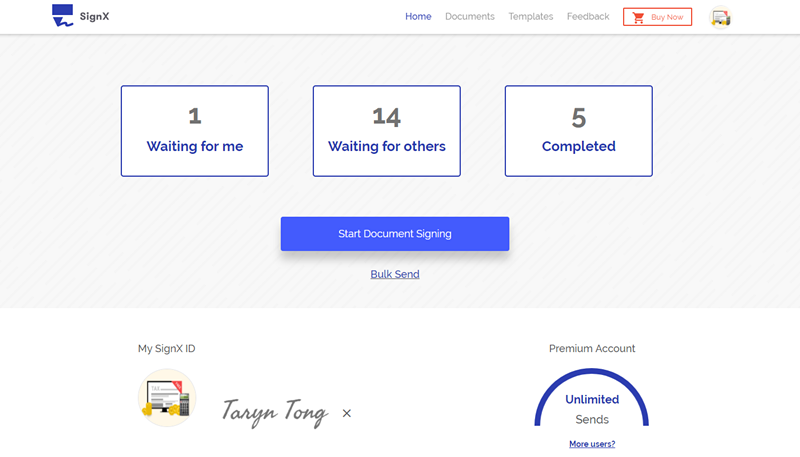 Again, RightSignature is one of the most popular software for e-signatures but there are others that are also great alternatives. One of those is the SignX, an e-signing software by Wondershare. This is one other software that makes digital signing seamless through a set of super awesome e-signing features.
Talk of the ability to not only create any type of electronic signature but also having the ability to to secure documents. Moreover, the platfotm has a real time notification system that alerts you whenever your documents are opened, edited or signed. It is simply one document management and e-signing system that every business must look at.
E-signing is here to stay particularly as more and more services go digital. It is only natural that many businesses will be looking for ways to smoothen business processes. This is why e-signing softwares will grown even vital in the near future. If you are a business owner, then you should jump to the wagon sooner rather than later. You should however keep in mind matters security when you are handling your files in digital formats. Better still you can work with a third party e-signature vendor such as RightSignature or SignX and have your work cut down for you!