Adding an eSignature to PDF is a common task that nearly every department in every business executes on a daily basis. Whether it's a contract, an agreement, an internal HR update, or any document that requires people to sign it, adding an eSignature of a PDF file helps save paper, cut costs, and make the overall process more efficient than doing it physically.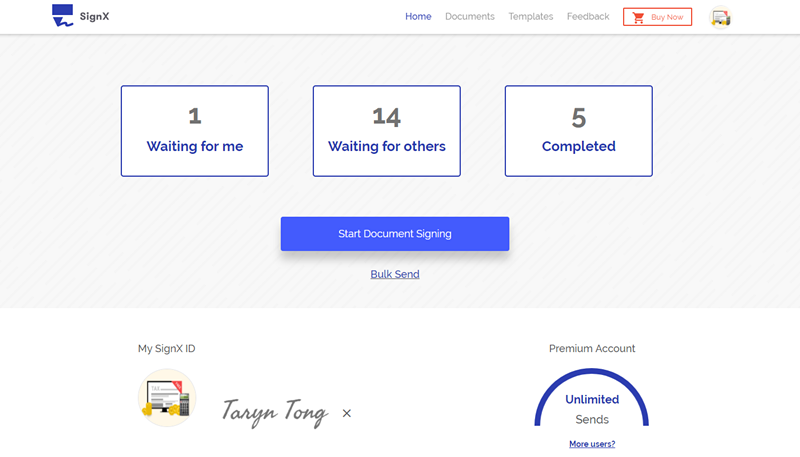 Best Ways to Get an eSignature on PDF
The five tools highlighted here offer compelling features and competitive pricing. Some of them also allow you to add an eSignature on a PDF free of cost or offer a free trial period to test out the features. Let's have a look at what they can do and some of the pros and cons of using them.
SignX
SignX is a robust tool to add an eSignature to a PDF file, send a document for bulk signing, track the progress of documents in circulation, and more. It offers a highly secure environment with extra authentication options for premium users. The entire process of creating an eSignature to getting multiple signers to put their mark on the document in question is straightforward and is presented in an intuitive and pleasing interface.
Pros
● Affordable upgrades
● High free limit compared to free plans from other PDF eSigning applications
● Powerful features for bulk sending, tracking, and additional security
● Convenient dashboard to view real-time signing status of workflows
Conclusion: Comprehensive solution to create and add eSignature to PDF.>
Adobe Sign
Adobe Sign is one of the most popular eSignature tools in the world, with a comprehensive feature set and a host of third-party integrations that make it a highly appealing product. It can be used for emailed PDFs as well as web PDFs and allows you to track every signer's activities on the files that require their signature. One major downside is that it is designed for enterprise use so it can be expensive for small businesses and individual users.
Pros
● Comprehensive eSignature capture and tracking features
● Extensive third-party integrations
● Enterprise-grade security
● Cross-platform support
Cons
● Expensive for SMEs and entrepreneurs
● No free version except for the trial period
Conclusion: Ideal for large teams of premium users but expensive for smaller teams.
PandaDoc
PandaDoc is more of a document management solution but it does include eSignature-on-PDF free with all paid plans. It is essentially a document workflow automation tool, so it boasts features like document creation, personalization options, CRM integration, and more.
Pros
● Robust suite of eSignature features
● Ability to create interactive documents for distribution
● Tracks time spent on sent documents
Cons
● Too many features for just eSigning needs
● Slightly more expensive than most PDF eSigning apps
Conclusion: Feature-packed eSignature utility with strong customization capabilities.
Preview on Mac
If you're on a Mac and you're not looking for advanced eSigning features, you can use the built-in one for adding digital signatures. It can be found in the Annotate section of the free Mac utility and it serves the purpose when you don't have access to any other tool or if you're offline.
Pros
● Free with Preview for Mac
● Scan a physical signature and your Mac's camera
Cons
● No advanced features like sending for signature or tracking
Conclusion: Free to use application that helps you out in a pinch.
SignNow
SignNow has an extensive feature set that includes unique capabilities like signature forwarding, payment requests, additional document requests, and more. It allows you to add a host of fillable fields to your documents to create a form-like experience for the recipient. Most of the other features are comparable to other products reviewed in this article.
Pros
● Rich features for additional tasks
● Form-creation capabilities
● Additional PDF features like editing and annotations
Cons
● Monthly plans are higher than most similar tools
● Extensive feature set means a steeper learning curve
Conclusion: Extensive feature set with several useful PDF tools.
Why is SignX the Best for Putting an eSignature on PDF?
When you compare aspects like features, pricing, usability, and security, the most well-balanced product turns out to be SignX. It is suitable for small and large teams alike, the interface is intuitive, and it supports all major OS platforms since it is essentially an online PDF signer tool. Let's look at how it works.
How to Securely eSign a PDF with SignX
1. The first step is to register on the site and log in to your SignX account.
2. Upload the document using the button provided or drop it from Explorer or Finder.
3. Add the signatories' email IDs and reorder them if it requires a sequence of signers. You can also add an access code if you're a premium user. This offers an added security level to the process.
4. Input the subject and body of the email and agree to the terms of use. This is important because you're adding a legally valid electronic signature.
5. Place the required fields: signature, date, title, etc. Custom options are available.
6. Send for bulk signing.
The recipient will get an email notification with a link to access the document and sign it. The sender will get a real-time view of each signer's status as well as notifications when an activity is logged. The free plan includes viewing the audit trail and receiving email notifications. As such, SignX is the recommended choice to add an eSignature to PDF and do a host of other related tasks to make you more productive and far more efficient.
---
Video on How to Sign Your PDF File Free Online