A signing app or contract signing app is a software utility that lets you add electronic or digital signatures to an official document for various purposes. Some will let you sign contracts on phone, and some are desktop utilities, and some are cloud-based signing apps that you can access on most browsers. The signing app you ultimately choose should depend on the specific needs of your business. For example, do you need in-person electronic contract signing software for your field sales staff? Do you need an app to sign contracts that can set a specific order for how the signatures of multiple stakeholders are collected? These questions will help you figure out the best contract signing app for your company. Here are the best online contract signing software apps you should know about that cover nearly every requirement you may have.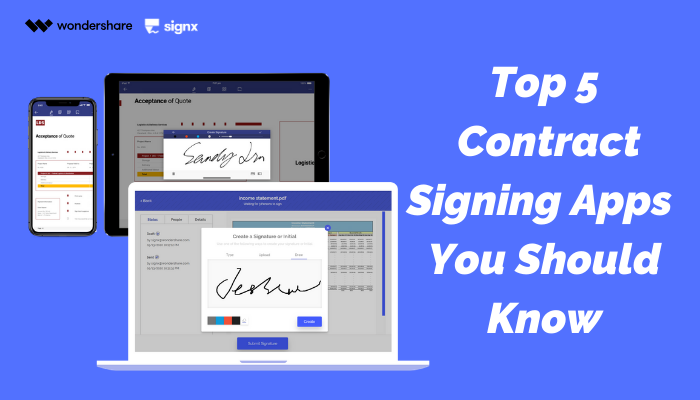 #1: SignX
SignX from Wondershare is a dedicated contract signing app with all the features you need to effectively and efficiently manage contract signature workflows. The feature-rich environment, the clean and easy-to-understand interface, the convenient tracking features, etc. make it a must-have app to sign contracts in a productive and revenue-focused manner. The app also has a convenient bulk send feature that allows users to send a document to several people for independent signing. Custom branding and two-factor authentication are also available for premium users.
Important Features
● Create digital signatures that are legally valid and compliant in most countries.
● Send documents for signing by multiple signers.
● Bulk send documents for independent and personalized signature requests.
● Track and monitor the process in real-time.
● Keep audit trails for compliance purposes.
Pros
● Speeds up your overall contract signing process.
● Makes it easy to get digital signatures from multiple stakeholders.
● Effective real-time tracking with email notifications and reminders.
● Two-factor authentication to further secure your contracts.
Cons
● Cloud integration not available.
#2: PDFelement
PDFelement is essentially a PDF editor with the eSigning feature integrated into it. Although it does not have advanced signature tracking and other such features, it makes the job of signing a PDF document super-simple. In addition, the electronic signatures generated in this software are legally valid. The app also has form-filling and form-signing capabilities, which makes it a useful tool to have as part of your document management arsenal. Most importantly, PDFelement is the perfect software on which to create and design your contract documents for distribution via the popular PDF format.
Important Features
● Full document editing capability.
● Powerful conversion options to and from PDF.
● Simple process for eSigning and filling forms.
● Annotation tools to add comments for signers.
Pros
● Feature-rich environment to create PDF contracts, agreements, etc.
● Convenient electronic signature generation and eSigning features.
● Clean, uncluttered interface to create PDFs or convert from other formats.
Cons
● No advanced signature tracking or monitoring.
#3: Adobe Sign
As a market leader in the world of PDFs, Adobe has an advantage over other products because of its millions of existing users. Adobe Sign is one of its cleanest products from a UI perspective, which makes it easy to use. It's a little expensive compared to other products, however, and may have features that you might not need. Nevertheless, it's a great contract signing app to know about.
Important Features
● Electronic signature creation is made simple.
● User authentication for additional security.
● Custom branding options like logo, etc.
● Access for mobile devices.
● Bulk Send feature, called Mega Sign.
Pros
● Convenient document status tracking.
● Real-time emails to let you know about signing status and process completion.
● Users can have forms embedded into their website.
Cons
● Expensive for smaller business users like entrepreneurs and startups.
● The free trial is for a limited period only.
#4: DocuSign
DocuSign is a giant in terms of its brand recognition and reach. It was one of the first contract signing apps to be compliant with major regulatory implementations in eSigning. It also offers one of the longest feature lists and is ideal for large organizations using the product across multiple locations. However, it might be overkill for a smaller company with limited resources and simple contract signing requirements.
Important Features
● In-person signatures can be captured on mobile devices.
● Robust security features.
● Extensive reporting and analytics.
● Support for a wide range of file formats.
Pros
● Industry-leading solution.
● Enterprise-level security.
● Extensive customization options.
Cons
● Expensive for smaller companies.
● Too many features for simple contract signing.
#5: signNow
signNow offers a flexible platform that is scalable for larger organizations, yet simple enough for smaller companies to use. Users can generate legally binding electronic signatures, send documents for signing, add encryption to files, add fillable fields, customize documents with branding elements, and more. The API allows developers to integrate signNow into their own apps for a custom experience.
Important Features
● Robust security features.
● Highly customizable contract signing app.
● API for easy app integration.
Pros
● Flexible and versatile.
● Request supplementary attachments.
● Export data and reports.
Cons
● No branding options or automated reminders in the basic plan.
● No bulk send option in the basic version.
Comparison of the Best Online Contract Signing Software
---
Video on How to Sign Your PDF File Free Online