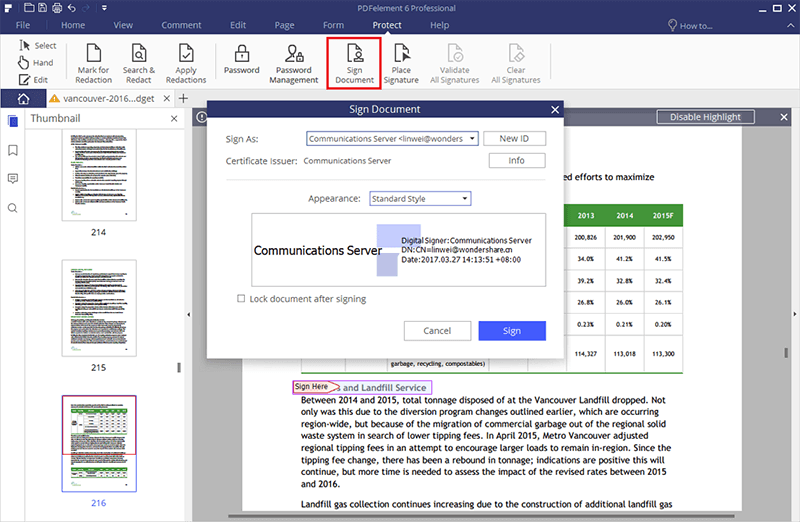 As we've mentioned before, adding a digital signature to a PDF document is quite easy if you have the right tool. The best tool to help you do that is PDFelement 6, a PDF management program that allows users to open PDF documents, convert them to various formats and even add signatures to validate the documents. To use PDFelement for this purpose, begin by downloading the program to your computer and then follow these simple steps add a digital signature to a PDF document.
Step 1: Open the PDF document you would like to sign in PDFelement. You can even open a Word document that will automatically be converted to PDF as soon as it is opened.
Step 2: Once the document is open, click on "Protect" in the main menu and then choose "Sign Document" button.
Step 3: If you have a signature ID, simply select it to add it to the document's signature field. If you don't have one, click "New ID" and follow the instructions to create one.
If your document doesn't have a signature field you can add one by clicking on "Protect" > "Place Signature" to add one.
Part 3

How to Use Digital Signature in PDF

Digital signatures are useful for a number of reasons, chief among them being the ability to validate the document. There are two ways you can use digital signatures to validate the document, they include;

1. Add a Signature and Send it to Others to Sign

One way to use a digital signature is to use it to sign the document for validation and then send it the document to others who need to sign it. This is ideal for organizations with documents that require approval or validation from more than one individual. It is also ideal for contracts drawn-up and need to be signed by all parties involved.

2. Add a Digital Signature to Protect Confidential Information

Another way to make use of a digital signature is to simply add a signature to the document to protect any confidential information on it. This can be useful when you need to improve the validity of the document when you send it to others.