Top 5 Software to Create Electronic Signature for Free
An electronic signature is the digital version of an individual's hand-written signature. An electronic signature is created using an electronic signature tool or an electronic signature software that can be used to send, sign and track the documents. These free electronic signature programs make it easier for a company or business to conveniently get their documents signed and the signatures authenticated.
If you are looking for a free but reliable way to create electronic signatures for your business or company, this article will provide you with the top 5 software to use to create Electronic signatures for free. Let's begin with the best.
Part 1

The Best Service to Create Electronic Signature Free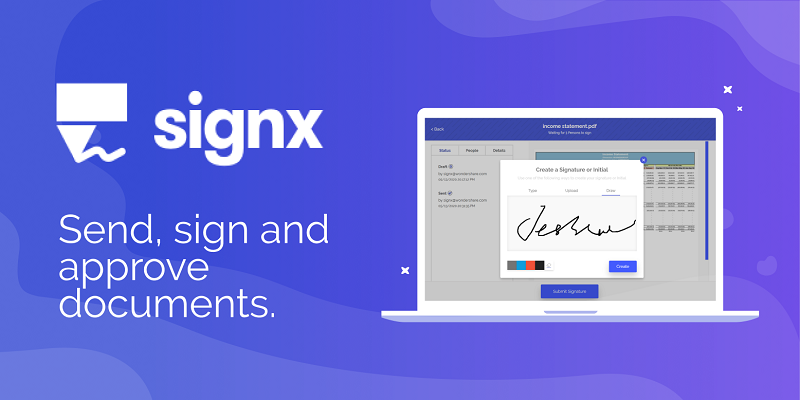 The absolute best way to create electronic signatures free is to use Wondershare SignX. This online service is ideal for you if you are looking for a simple and effective way to create and add signatures to your documents. It is very easy to use and since it's an online service, you don't have to download any software to your computer. All you have to do is create an account and then sign in to sign documents.
The following are some features you will find appealing about SignX.
Any eSignatures you create and add to documents using SignX are legally binding and just as enforceable as hand-written signatures.
You can easily ensure the document's security by adding an access code that you will only share with the recipients. This service also ensures the utmost security by utilizing the strongest commercial SSL encryption protocols.
Managing the signed document is quick and easy and can be done from just about any device.
You can also easily use SignX to personalize, modify and deliver the documents for signing.
More users can be managed in your account. You can add or reactive users in the account.
The following is a simple step by step guide to help you use SignX to create and use electronic signatures for free.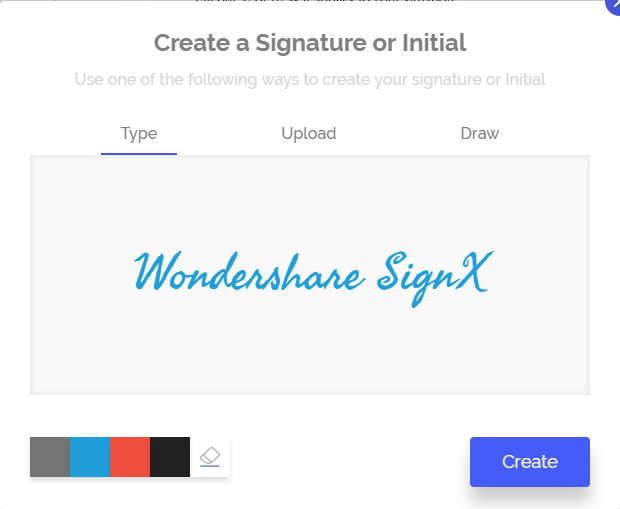 Step 1: Create Electronic Signature
Sign in to your SignX account. If you don't have one you can create one by clicking on "Sign Up". Under your profile, click "Create Signature". A new dialogue box will appear.
Click on "Draw" of you want to create a signature by drawing;
Click on "Type" if you would rather type it in;
Click on "Upload" of you already have an image of your signature.
Click "Create" once you are happy with the entered signature.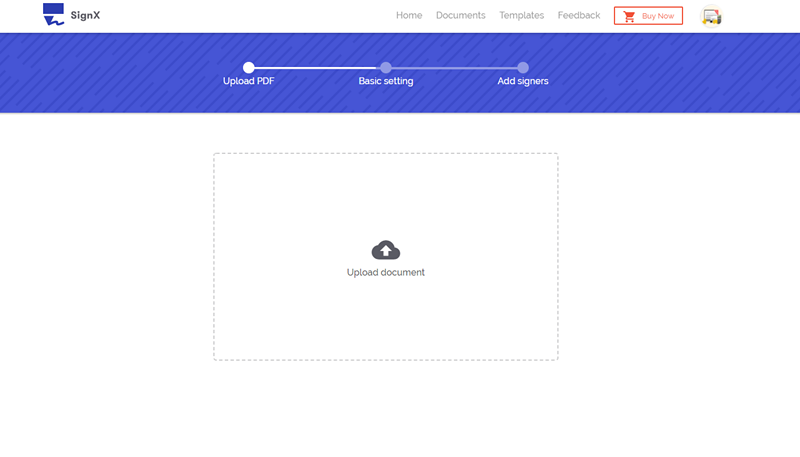 Step 2: Upload a PDF File
Next you want to upload the file you want to add a signature to. Click on "Upload" to upload the document. Click "Next" to continue.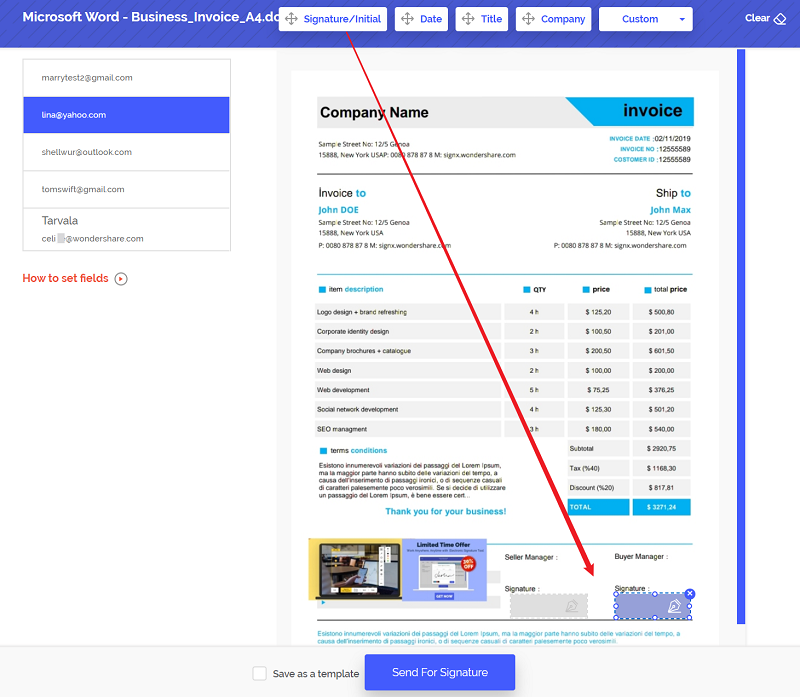 Step 3: Add a Signature to the PDF and Collect Signatures
In the next window, add the recipient's emails and if you need to sign the document, check "I need to Sign the Document". Click "Next" and then confirm the message your recipients will receive and click "Next".
If you need to sign the document, you should drag your signature into the right place. If you are requesting recipient to sign, click on the recipient's email and then click on "Signature" and drag the field to where you want the signature to appear. Click "Send for Signature" when you're finished.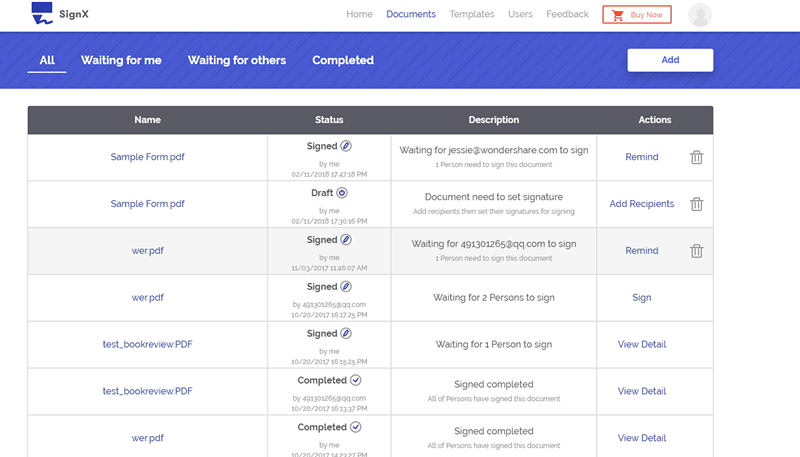 Step 4: Manage the Signed Document
When the document has been signed, it will appear as "Completed" on your dashboard. You can click on the file to view its details and manage it. Click on "Download" if you want to save it to your computer. Click on "People" to view who has signed the document.
Part 2

The Other 4 Software to Create Electronic Signature Free
1. RightSignature
RightSignature is an alternative program that you can use to sign your documents electronically. It is easy to use with a great user interface and multiple ways to create signatures.
Pros:
It is easy to use and highly effective
It comes with a mobile app
Cons:
You need to use Adobe or other software to create the form fields before signing
2. HelloSign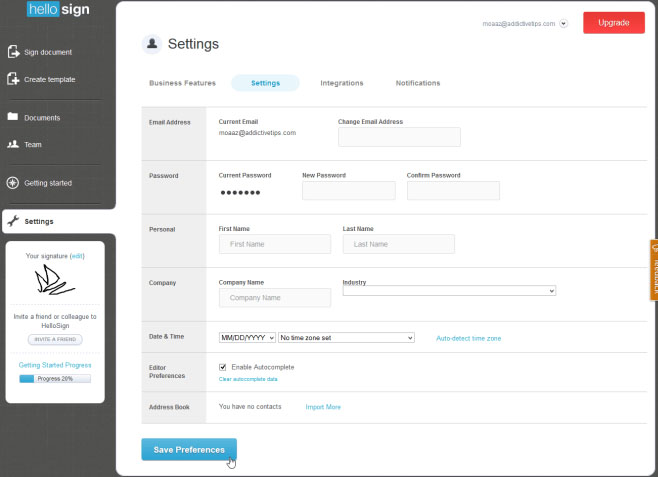 This is another program you can use to easily create and use electronic signatures. With HelloSign you can collect up to 20 signatures and even get status updates of the progress of the document.
Pros:
You can create electronic signatures into websites and apps
Cons:
The free plan allows users to only send up to 3 documents a month
3. AssureSign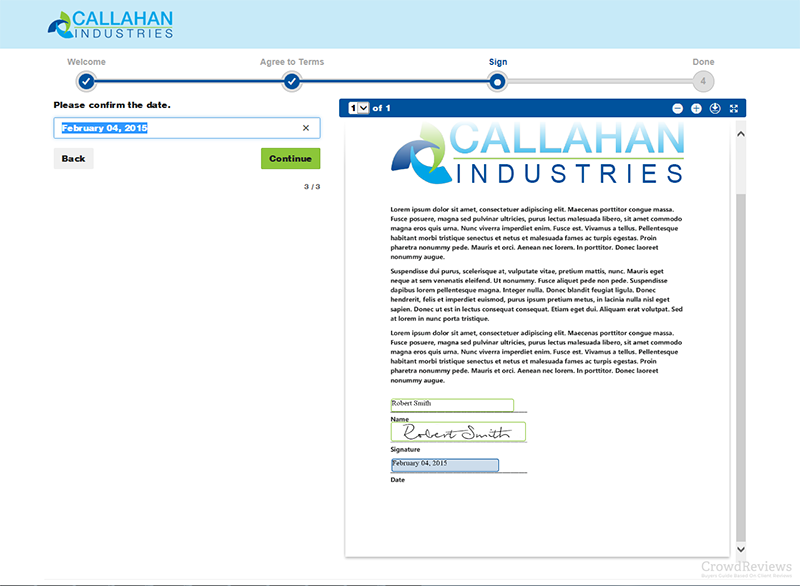 This is an easy to integrate online service that offers services for small businesses and medium to large businesses. It can be used with many cloud services or SaaS service.
Pros:
It is easy to use and very affordable, plans start from $1
Has great reviews from reputable companies
Cons:
It is not available on mobile devices
4. Sertifi
This is an easy to use service that was founded in 2005 in Chicago and allows users to easily create and use electronic signatures. You can add electronic signatures to up to 300 different types of files including Word, Excel and PDF.
Pros:
Has different plans with discounted rates for Nonprofits
Has a 30-day free trial
Cons:
It is not available on Mobile devices