1. Wondershare SignX
Wondershare SignX is the best handwritten signature generator out there on the market. It is a powerful with many built-in features, but its primary use is that of electronically signing documents and generating handwritten signatures. This hand signature generator lets you do it via three awfully simple methods: Firstly by uploading a photograph of your signature. Secondly, by typing the text and letting it convert it into an artsy curvy signature. And thirdly, by providing a pencil tool with which you can draw your signature easily.
Wondershare SignX generates signatures that are legally binding, quickly produced, secure and able to be produced on the go via its mobile apps. This handwriting signature generator is the best way to sign your documents and to set a lifelong digital signature. It also allows for multiple users sharing in your SignX account and you can remove who you need to reactive.
2. OnlineSignature.in
This live hand signature generator is an awfully easy online solution to help you along your busy life and generate your personal signature in a matter of minutes. A really simple website that has some useful features including but not limited to generation of handwritten signatures. It allows you to enter your name, choose the font, choose color, and then generates your personalized signature. A really time-efficient solution if you are in a hurry and want to get done with work easily. One drawback of this online solution is it does not let you upload a picture and then convert it to a signature.
3. My Live Signature
Another online solution to help you in your busy work life. MyLiveSignature helps you to draw, type, or upload an image to get your signature electronically feasible. This handwriting signature generator is free to use and allows you to download your generated signature to a PNG to be used later. Uploading the image and fetching your signature from it is not available in the free version, you will have to shell out a couple bucks for that feature.
4. My Free Signature Maker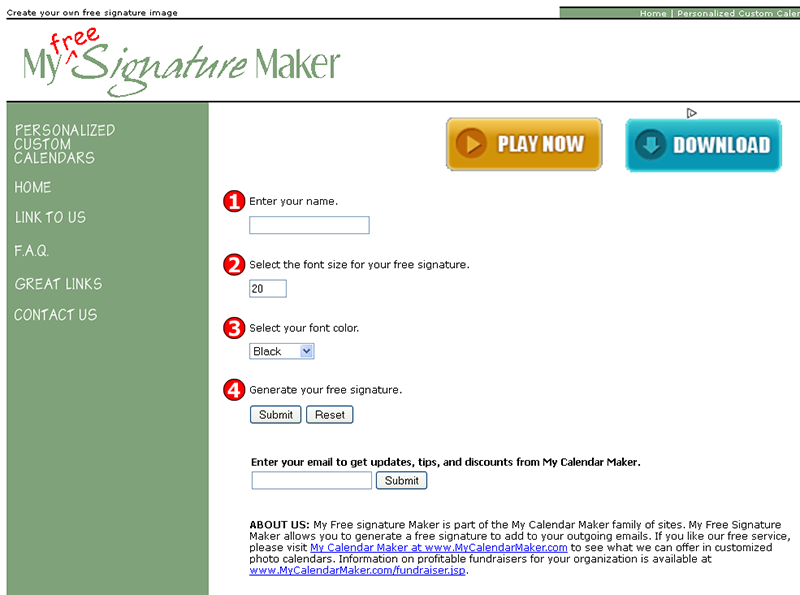 My Free Signature Maker is a hand signature generator free that makes it its mission to give you the simplest solution online. It lets you simply type your name and it generates at least 10 styles of signatures for you to choose from. Once you have chosen the style, you can download it as a GIF and store it in your drive to be used with any and all documents that you may desire. Do not forget to add a .gif extension at the end of the file name lest it become useless.
5. Online Signature Pad
As the name suggests, this online signature generator handwriting pad lets you use a pencil tool to draw your signature. What it does is present you with a simple pad, you choose your desired color and ink width, and then you enter your email address and draw away! At the end of your drawing, you can simply send it to your email address. A PNG file is sent to your inbox, where it is saved securely for you to download and use it in your documents.
Part 2

How to Create a Handwritten Signature

Creating a signature is a matter of minutes. With Wondershare SignX, you can generate your e-signature in the following three simple ways:

1. Create your signature

Browse and select an image from your drive that has your cropped signature in it. Once you have selected it, hit Upload and then SignX will do its magic and provide you with an electronic signature by fetching it from your picture.

For those of you who do not like the complications of having to crop and upload images with your singatures, you can simple type your name and let SignX convert it into artsy and curvy signatures and choose the one that suit your style.

Drawing signatures is also an awfully easy solution where you just use the pencil tool to draw your signature and use it for any of your documents.

2. Once you have created the signature, just add it to your document by setting a field on the document and choosing the option to sign first or last.

3. Once you have signed it, you can add fields for other signees on the document by adding their email addresses and then sending them to the related parties.