Top 5 Unfailing PDF Signers
Slow, but steady, we are moving towards world of paperless offices. More and more companies are taking the digital approach. There are many reasons for going paperless, mostly tied with costs, saving time, and being more practical. And once you decide to enter the digital world, your company needs a PDF signer that will enable everyone involved to sign documents on the go. The question is which PDF signer, or which PDF signing software to choose? We have several PDF signing tools for you to consider, as well as tips how to choose the best.
Part 1: Top 5 PDF Signers
1. Wondershare SignX - The Best Online PDF Signer
Let's start with one of the best online signing platforms you can find on the market. Wondershare SignX is designed to eliminate the cost and hassle of paper-based tasks. As you start using the PDF signer, you'll improve your document productivity, all while gaining more control over the process of signing documents. Here are some of the main features:
Sign as you go, any document signed anytime, anywhere. As long as you have access to the internet, you can sign the document
Three types of digital signatures: draw, type in, and upload signature
Legally binding signature. Any document you sign is as legally binding as any hard-copy printed document
Real time notifications, centralized dashboard and complete detailed audit trail for every step of the signing process
You can bring a number of users to your account
2. PDFelement - The Best PDF Signer for Desktop and Mobile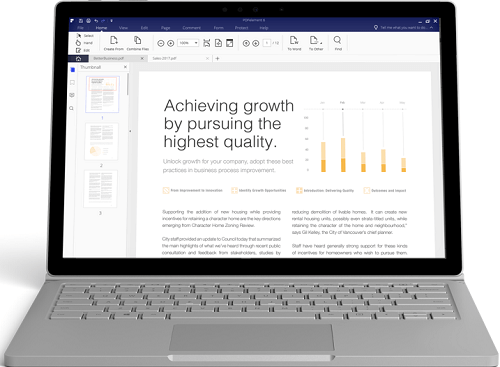 You can also sign documents with another tool - Wondershare PDFelement. It is a different all-in-one PDF tool. It is more used for creating, converting, merging, annotating and editing PDF documents. But it is also a great PDF signer and you can use it to digitally sign documents. Here are some features:
Extract parts of PDF document to create a new PDF document
Merge several documents into one full PDF document
Annotate, add notes and custom stamps. You can also highlight any part of the text
Create digital signature you can use to sign documents in a matter of seconds
Use redaction and password protection to increase the security of your documents. Redaction is a tool you can use to limit some parts of the documents for legal and security purposes
3. DocuSign
Moving on to one of the most popular digitally signing software tools in recent years. DocuSign has been on the market for a while, and the tool is still one of the most popular. The tool moves the process of signing completely online, and has a nice tagging system that helps the user. When you need PDF signer, DocuSign is among the first options.
Pros:
Court-accepted electronic signing of documents
Can handle single, sequential, and multiple recipients
App for Windows phones, Android devices and iOS devices
SalesForce and SharePoint integration, custom API integration
Cons:
Support is community based. Enterprise plan has phone, chat, and email support, but it costs way too much
Phone authentication for verifying recipient's identity costs extra
Some people ask for more admin controls and functionality
4. HelloSign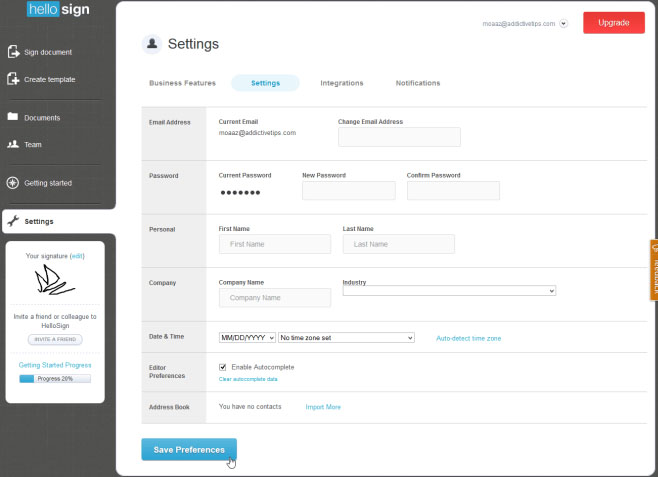 We have another user-friendly PDF signer here. HelloSign is a software tool people use to sign documents online. The good thing is that you can specify who to sign first, and then assign the document to the next person in line. There are many templates that make it easy for previously used documents to be adjusted for another client.
Pros:
API integrations
Lots of templates to choose from. They all cost extra money though
Custom branding feature available for business and enterprise plan
Cons:
The software is pricey compared to competitors. Monthly subscription starts at $13, and can go as high as $40
Templates are limited, and as mentioned, you have to pay extra for more options
There is no option for adding single users to any plan. Instead you need to buy additional plan
Users are asking for unique field validation
5. SignNow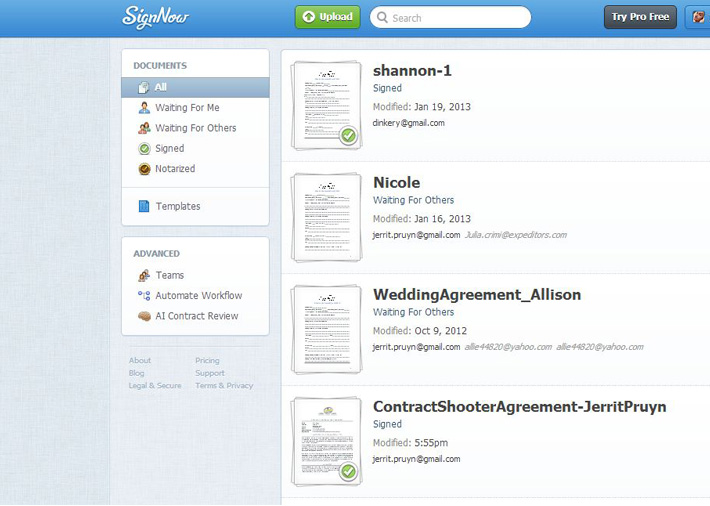 SignNow was previously known as CudaSign. And this PDF signer has an impressive resume, with companies like ESPN, Mashable and Forbes using it. One of the best features of SignNow is that you can upload Word and Rich Text document as well as PDF for signing. Every document you email to recipients is saved in your account.
Pros:
Manage documents, archive documents, and share templates
Multiplatform app, you can use on iOS and Android devices
Intuitive, easy to use and user friendly website layout
Salesforce and SharePoint integration with premium plans
Cons:
The app lacks some of the more premium and advanced features like central archive
Only premium plans include premium and email support
Lack of audit trail
Part 2: Tips for Choosing the Right PDF Signer
Now after you have some options to choose from, let's try and narrow it down how you can choose the best PDF signer for you. When choosing PDF signing software, there are few questions you need to answer.
Does the PDF signing tool works with the content and management applications you already have. You want your apps and software to complement each other. No need to choose all other management applications for your PDF signer
Does the software allow you to control the implementation. The software should adapt to your technologies, not the other way around
Make sure that your software complies with the regulations that are required for your specific industry
Can you sign documents from any device, at any time? The point with using digital signature is to be able to sign documents on the go. If your software doesn't have such feature, look for another option
Last, but not least, is it cost effective? When purchasing PDF signature software, make sure to consider lifetime costs, not just the immediate costs.