Top 5 SignEasy App Alternatives for Android and iOS
Many businesses have increasingly found themselves communicating via digital correspondence like emails, making electronic signatures an essential part of such business environments. In such a case, many e-signature applications are flooded including SignEasy app, an intuitive and user-friendly e-signature application, allowing users to append signatures on different types of business documents on the web and mobile devices. Today we will check out top 5 SignEasy alternatives for both iPhone and Android in this class below.
Part 1

Top 5 SignEasy App Alternatives
1. DocuSign Professional
DocuSign is one of the oldest tools in this field, with millions of users logging in every day to sign documents and share them within the vast network of users. It gives users total digital control over agreements, contracts, and other legally-binding documents. It boasts of one of the most robust security and authentication protocols in the market, even allowing the user to add geo-tags with signatures for improved audit trails.
Pros
1. Comes with reusable templates
2. Provides a useful document overview facility
Cons
1. Steep learning curve and complex functionality
2. Customer service could be better
2.PandaDoc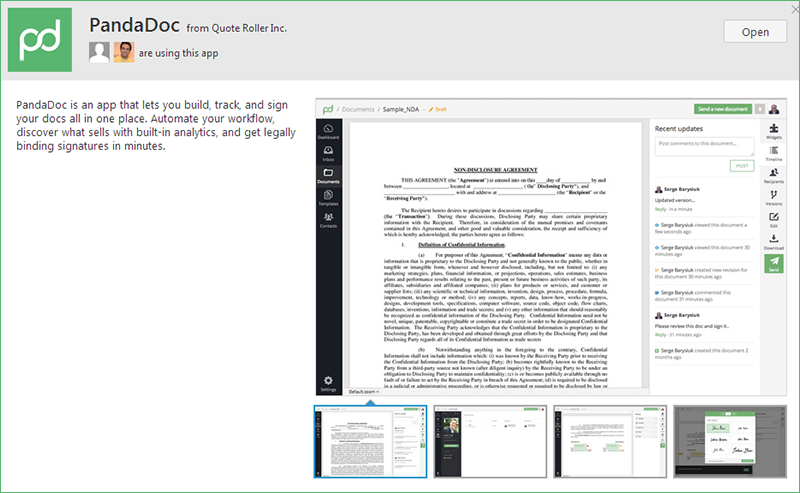 PandaDoc is an all-round e-signature management system that lets users append electronic signatures on multiple types of digital documents. In addition to e-signing, PandaDoc comes with a ton of other document management features that makes it a useful addition to the average office. For instance, the app can track customer interactions with the document during the approval process, which helps improve the collaboration process.
Pros
1. Offers document conversion after signatures have been appended
2. Professional-looking output
3. Large database of reusable templates
Cons
1. The app does take a while to get used to
2. Integrations don't work as smoothly as they should
3. Inkdit
Inkdit is a useful and intuitive e-signature application for modest, daily use. Like others in this list, you can use it to insert digital signatures on your documents and share them with others for the purpose of appending signatures. However, it also comes with a number of extra, nifty features, including the ability to convert PDF forms into form fields, making it easier to use the app remotely on a mobile device.
Pros
1. Simple and intuitive user interface
2. Top-notch customer support
Cons
Quite pricey for a simple app, with prices starting at $20/user/month
4. HelloSign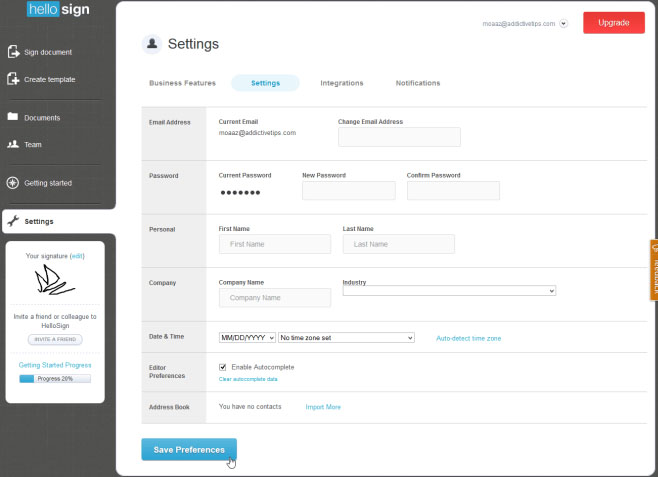 HelloSign is an electronic signature application that lets up to 20 users append signatures and share signed documents via a mobile app or a cloud-based platform on a website. HelloSign is one of the few electronic signature applications that let you build basic signing capabilities into an app or website, which helps reduce the amount of time and hassle it takes for multiple users to append signatures.
Pros
1. Lets users build e-signing capabilities into websites and apps using basic scripting
2. Ensures signatures are compliant with internationally-accepted standards
3. Real-time status updates for multiple signees
Cons
Below par integration with Google Apps
5. Signable
Signable is yet another electronic signature application that also comes in the form of an Android and iOS app, which makes it a good fit for e-signature management on the go.
Signable takes much of the signing hassle away from the user, automating the encryption, sending, and tracking processes until the document is signed.
Pros
1. No registration required by the signee
2. Exceeds e-signature law requirements in the UK and EU.
3. Pay As You Go payment plan for flexibility
Cons
Quite pricey, with cheapest plan starting at £19/month
Part 2

Introduce SignEasy App

SignEasy is an e-signature application that helps businesses and their customers to sign and verify documents in a completely digital environment. SignEasy users can access the e-signature platform via the cloud-based SignEasy Web app or on their mobile devices via the SignEasy Android and SignEasy iPhone app that's available on the iOS platform.

The SignEasy app allows users to sign and validate important documents anywhere as long as they have a mobile device. These documents can then be shared among multiple recipients, helping to save valuable time and the environment because of paperless transactions.

Some of the app's other notable features include:
1. Comprehensive third party integrations, e.g. Dropbox, Google Drive
2. Multi-format document support, including PNG, HTML, and PDF
3. Support for iOS 8 and Apple Touch ID, enabling biometric authentication
4. Simple, intuitive, and user-friendly UI, suitable for everyday users
All these features for an amazing $10/month for the Standard plan, $15/month for the Plus plan, and $80 for the Premium plan.
SignEasy has received generally positive reviews from users and review websites, with the app receiving a user satisfaction score of 89% from FinancesOnline.com and a 5-star rating from Capterra.com.
Part 3

Get Signatures with Phones without Downloading SignEasy App

Of course, if you'd rather skip the hassle associated with downloading, installing, and upgrading apps on your smartphone, SignX will work equally well for you. SignX is a simple, web-based solution that you can use to manage the e-signing process remotely. The cloud-based service allows you to create a digital signature, upload a PDF file that you want to add the signature, and easily insert the signature.

You can also send the document to other recipients to sign via the platform, which literally takes less than ten minutes. Plus, just because it's web-based doesn't mean it loses the features available on other applications. SignX will let you add two-factor authentication and SSL encryption to ensure your documents are protected.

The platform also enables users to set reminders and keep track of those signatories who have and haven't appended their signatures and informs you when one of them signs. This way, there's no need for follow up emails and phone calls, saving tons of time and money.