How to Create a Digital Signature Free
In the world witnessing a digital age where almost every task and function is being done through a digital process, the traditional paper based signature and manual document management systems have become outdated and turned into digital signature and e-documents. With the help of advance and free of cost trial versions of digital signature creators available online, users can create digital signature free, with their fingertips in few seconds.
Due to increasing legalization, many businesses are turning to use software that create free digital signature that is also legally binding. Therefore, using digital signature tools that create a digital signature free of cost, is a beneficial, modern as well as an economical idea. For our readers, especially those who are the first time users of these tools, this article explains the process of how to create free digital signature, via step by step process.
Part 1

The Best Tool to Create a Digital Signature Free
If you are looking for one of the most professional, business oriented and legally binding digital signature creators that can instantly create free digital signature for your all kinds of documents and also provide real time tracking, sending and sharing signed files electronically, as well as ensure high encryption of the signature, Wondershare's SignX is the highly recommended option.
SignX has been the topmost choice for a number of businesses and marketing professionals because of its cost-effectiveness, compatibility with web as well as mobile devices, availability of reused templates, file sharing and extremely easy to use user-interface. Above all, its competitive pricing sets it apart in the market. If you are a busy person, you can now quickly create a digital signature free through SignX and say goodbye to hours-taking traditional signature process.
Part 2

How to Create a Digital Signature Free

Here we have taken into consideration the Wondershare's SignX tool to create a digital signature free. The good news is that it is the best choice for the first time users who want simple yet useful and professional digital signature creator. Just sign up and follow a three-step simple and quick process of SignX digital signature creation.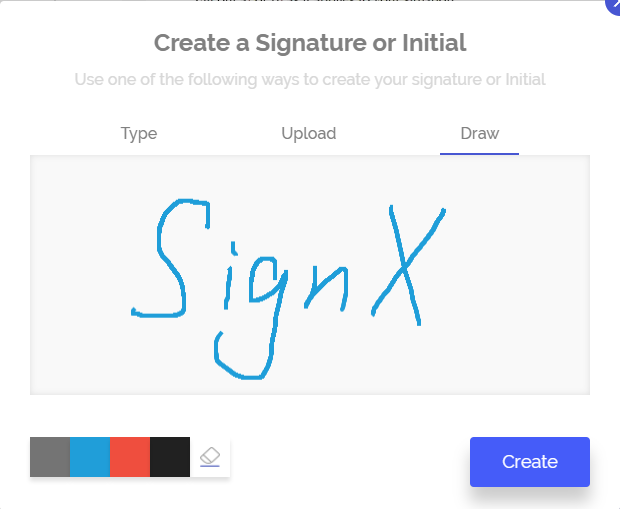 Step 1: Create a Signature
For this step, you need to sign up for your account first at SignX. Once it's done, you are ready to go and follow the following steps:
Enter centralized dashboard area after logging into your account
You will see "Create a Signature" link under contact details. Click it
Once clicked, you will see a window showing three options to create a signature

These options are:

1. Draw (where you can draw your signature through a touchpad, mouse or mobile device)

2. Type (where you can type signature)

3. Upload (where you can upload your signature's scanned image located anywhere on your device)

Click "Create" to save your signature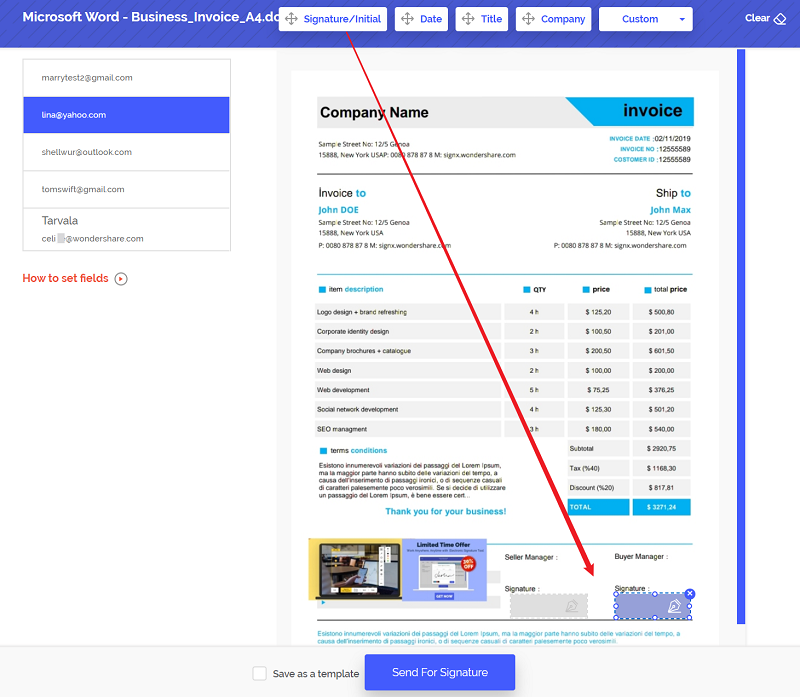 Step 2: Add Signature to PDF
The SignX lets you create free digital signature that can easily be used for signing your PDF files. For adding signature to your PDF docs, uploading PDF file is the first step.
Land on your Home page in your account
You will see a tab "Send New Document". Click it
An option "Click to upload (+)" will be displayed, through which you can upload PDF file located either on your device or cloud storage
Click "Next", which is the final step
If you want to make the document encrypted, you can link with it an access code at this stage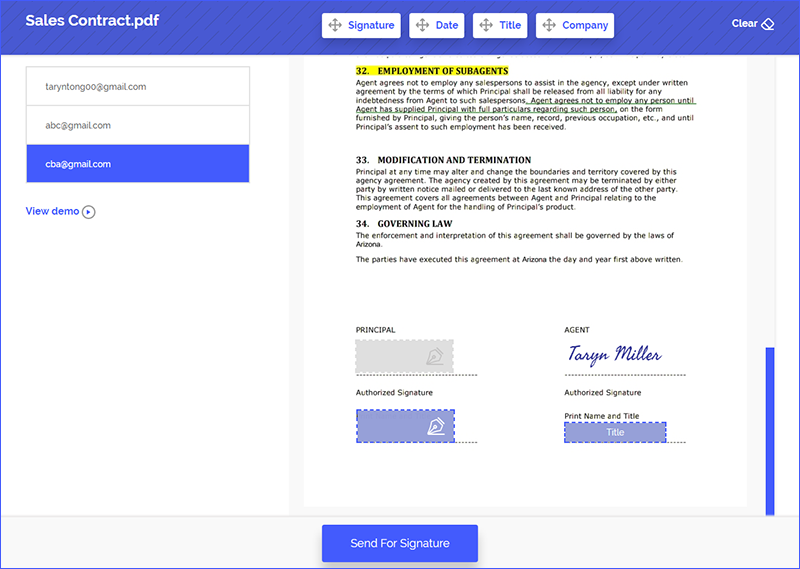 Step 3: Set Fields and Send for Signature
Now this is the best part, enabling sharing and collaboration among parties involved. It is especially admired by project teams and business units working on mutual objectives.
Create a list of recipients names and their email addresses. You can also add yourself in the list so that you also get the same document

At this stage, you may assign signature positions to recipients individually. Click the tab "Next" twice, leading to the window of recipients' names. Click on each to assign signature location.

SignX gives you the option to either "Sign First" or "Sign Last"
Use Drag & Drop technique to insert your signature to PDF
Once you click "Send for Signature", the document will be shared with all recipients

SignX will notify you once document is signed, and it safely stores all documents on its server, accessible from any device, anywhere, anytime
Part 3

How to Create a Digital Signature Free
Choose the tool that is legally binding.
Your digital signature should be unbiased and present useful information to readers.
Not all online tools that is free of cost produce legally binding and encrypted signatures, hence always check for certifications.
Most of the software often lack advanced features in Free trial versions. Hence, if you are satisfied with the trial, don't hesitate to buy the paid one for making your business processes more efficient.