Electronic signatures drive security, speed, legal validity, efficient record management and cost effectiveness in business processes. SignX is the E-Signature Software that helps you create a signature for exploiting the benefits of electronic signature. With this, you can securely and quickly create your own signature to be used for your documents.
A number of unique features embedded with the software including application of authentic and legally binding eSigns, document and password management, file encryption, document editing, reusable templates and real time notifications, set it apart in the market. You can create your eSignature by following a simple process, eliminating time wastage and hassles of paper work, while enjoying document productivity and more control over your signing process.
Part 2

How to Create Signature through SignX

Following a three-step simple and quick process of SignX, anyone can easily create a signature, without any anxiety or being trapped in technical jargons. The process has been kept as easy as possible to help streamline business processes securely and smoothly. The following steps let you create your own signature.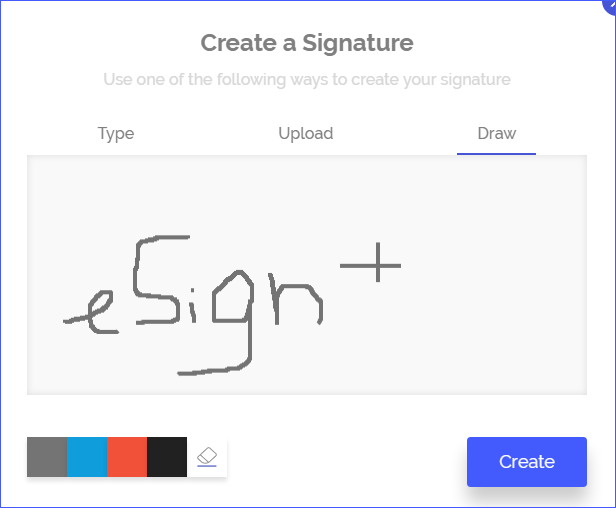 1. Create a Signature
1. Log into your SignX account and go to centralized dashboard.
2. Click on "Create a Signature" link displayed in your contact details.
3. Once you click, a small pop will appear to show three options to create your signature:
Draw (Draw signature by using a touchpad on laptop or mouse or via mobile device)
Type (Type signature and save)
Upload (Upload scanned image of your signature)
4. Once you choose the option, click "Create" and save. You eSign is done.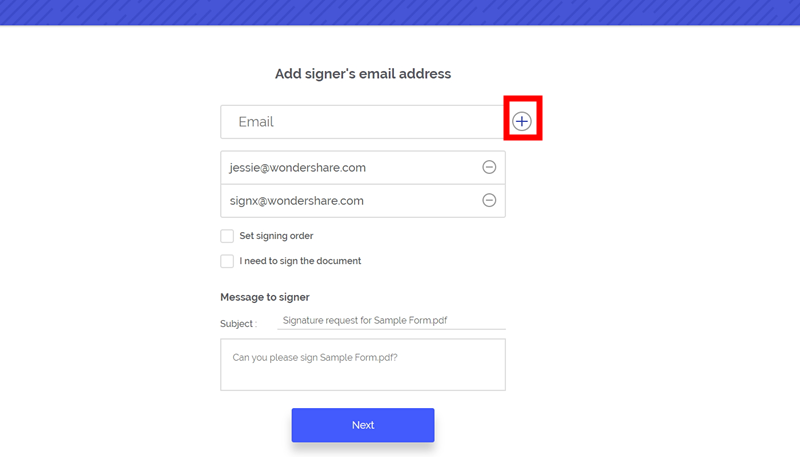 2. Add Recipients
For adding signature to PDF, you will first upload that PDF file.
Go to your account's Home.
Click "Send New Document".
A popup will appear with "Click to upload (+)". Using this, upload your PDF file on your computer or cloud storage that may have integrated with SignX
Click "Next", if you don't want to add an access code.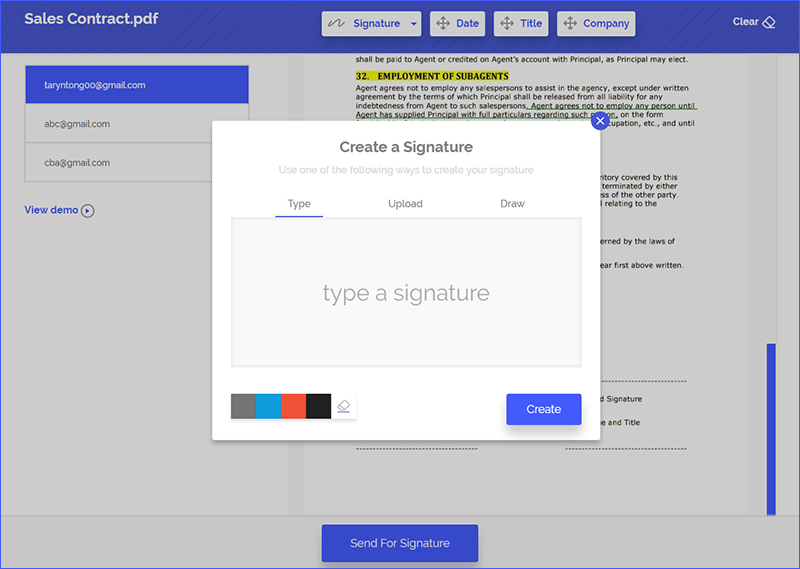 3. Set Fields and Send for Signature
Add recipients email addresses, along with your own to get a copy of your document.
Note: You may also assign signature positions to recipients. Click "Next "twice, which will lead to the window having all names displayed on the left. Click on each receipt to assign signature location.
You can alternatively choose "Sign First" or "Sign Last".
To add your signature to PDF, just "Drag & Drop" it at your assigned signature position.
Click "Send for Signature".
The document will be sent to all recipients. Once you get a signed document, SignX will notify you. All signed documents are safely stored on SignX server that can be assessed from desktop as well as mobile devices.
Part 2

More Tools to Create Signature
Items
ESign Genie
SignNow
RightSignature
What is it?

ESign Genie is a legally binding and easy eSignature software that creates e-signature and helps to obtain signatures on documents and reusable templates.

SignNow is used for signing, sending and managing signed documents on any device. The software also lets users import the images and documents from email, computer, memory card and cloud storage.

The user interface of the software seems like a pen-and-paper signing experience that can be availed in any web browser. Users are able to review documents, fill in the form fields, and make an actual, wet-like signature using their iPhone, iPad, or Android touchscreen or mouse.

The Pros




User-friendly interface, High customization, Customer Support
Template feature, Direct import from Google Docs, Ease of Navigation







User-friendly interface
Can Import documents from a range of sources







Tmplate overlaps multiple user's package
Great API & good documentation




The Cons




Since it is a new software, bugs are experienced.







not compatible with Android
Unable to import images from Gmail