How to Electronically Sign a PDF
Not everyone who wants to use e-Sign knows how to sign a PDF file electronically. If you need help in understanding how to e sign PDF, this is where you will have all your questions answered. We have put together a tutorial on how to electronically sign PDF that is easily understandable for everyone and covers how to e sign a PDF by yourself. This document also helps on how to ask others to sign a PDF file electronically.
Part 1

Best Platform to Sign PDF with Electronic Signature
It was never so easy to edit, maintain, modify and deliver your digitally signed PDF files before Wondershare SignX. You have the option to add an "Access Code" when you upload your PDF to SignX, which provides extra end-to-end security to the document. You can either draw, type or upload a scanned signature as per convenience. It keeps your signature safe and makes it easier to insert it in your uploaded PDF files.
Highlights of SignX:
Audit trails to help you access detailed logs that include IP addresses, timestamps, and sender's email address. It enables to improve traceability of signer intent.
Two-factor authentication is a great feature of SignX which enables you to assign a two-factor authentication code to secure sensitive documents.
Pixel perfect signatures that enable you to draw a perfect signature using their marker on just about any device.
Optimized workflows take care that even if multiple users are signing the document, it is done exactly as intended by you and in that order.
Legally binding signatures are created by SignX. As the name sounds, it is legally recognized by the government of most countries now.
Password protection and state of the art SSL encryption is offered by SignX as an extra measure to keep your documents safe.
Multiple users are allowed to added into your SignX account. You can also remove users from the account.
Part 2

How to Electronically Sign a PDF

1. How to Ask for Others to Electronically Sign a PDF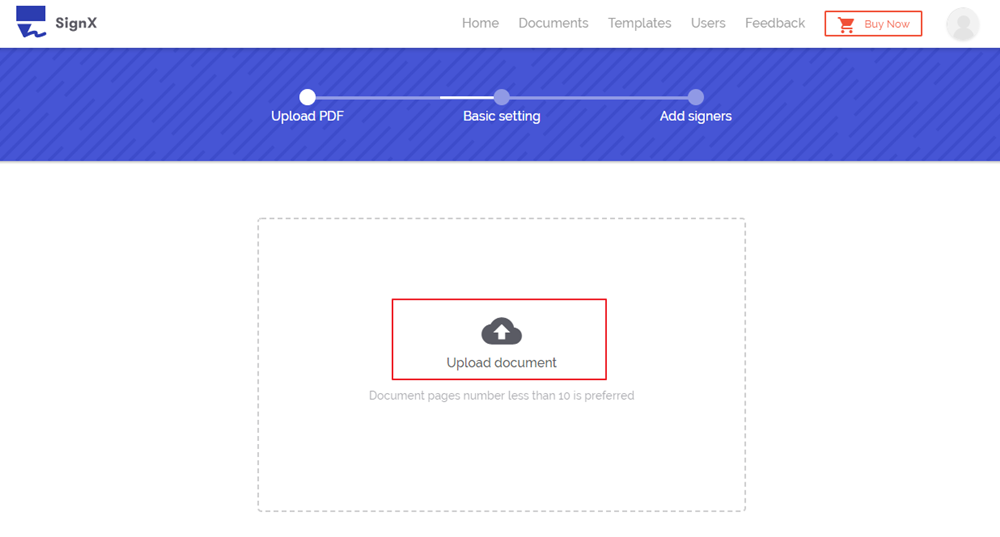 Step 1: Upload PDF
Uploading PDF files to SignX is a piece of cake. After login, you will be redirected to your home where you can see the graphic representation of your account activities. There you will see a big blue button with text "Send New Document". Click on this button and you will be given an option to upload a PDF file. Click on the (+) icon, and you can select the intended PDF from your computer.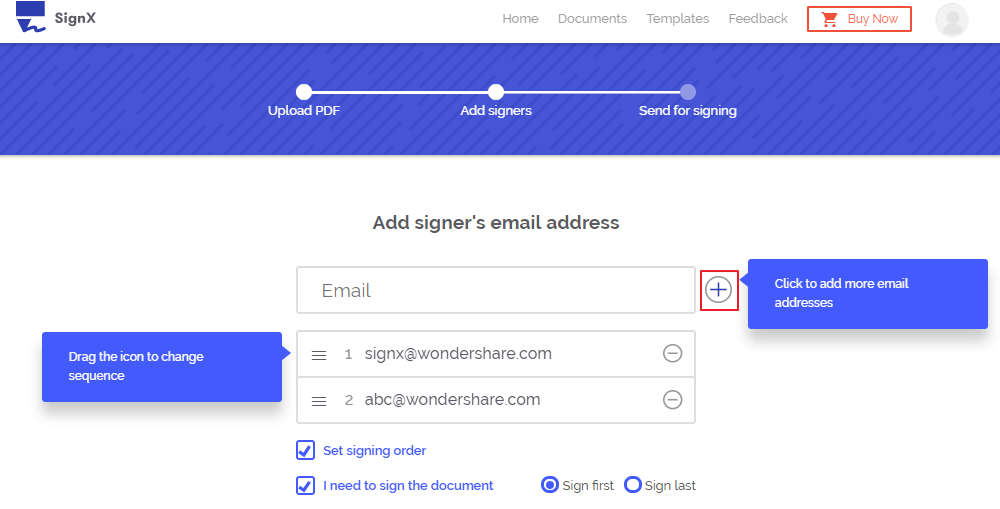 Step 2: Add Recipients and Set Signature Location for Others
After uploading your file, right on the next screen, you can easily add recipient's email and click (+) sign to add more than one. You can also set your turn for signature by selecting "Sign First" or "Sign Last".
You can also set signature locations for other recipients by clicking on "Next" after writing a custom message for them. This screen will have the settings to specify a signature location for each party involved.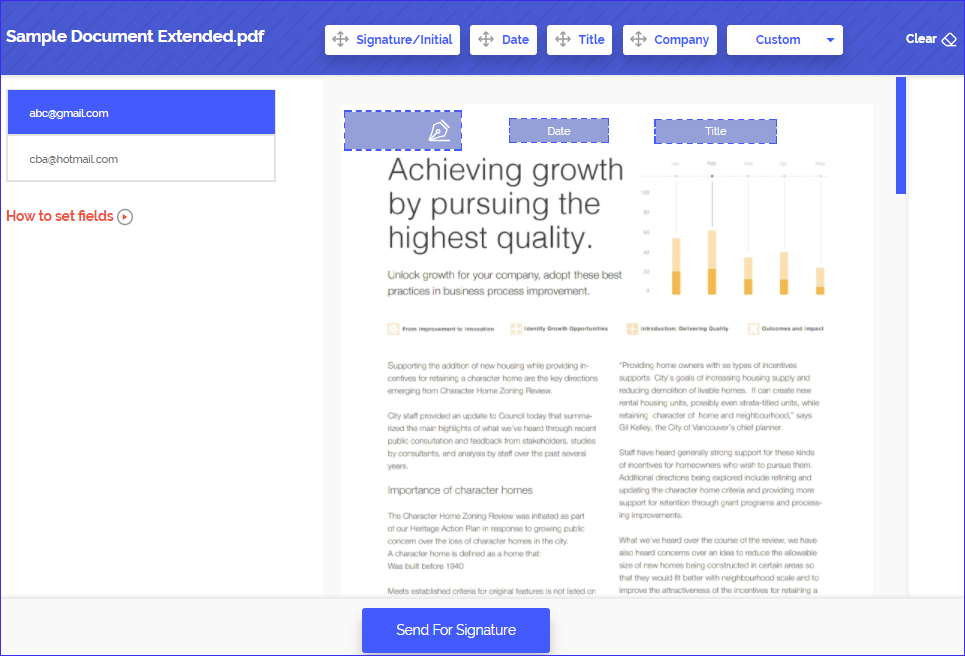 Step 3: Send for Others to Sign the PDF
Writing a custom message with subjects enables the involved parties to understand important information clearly. After writing it and setting signature position, you can "Send" the document for signing. The recipients will receive the document and they can sign it and send it back through email.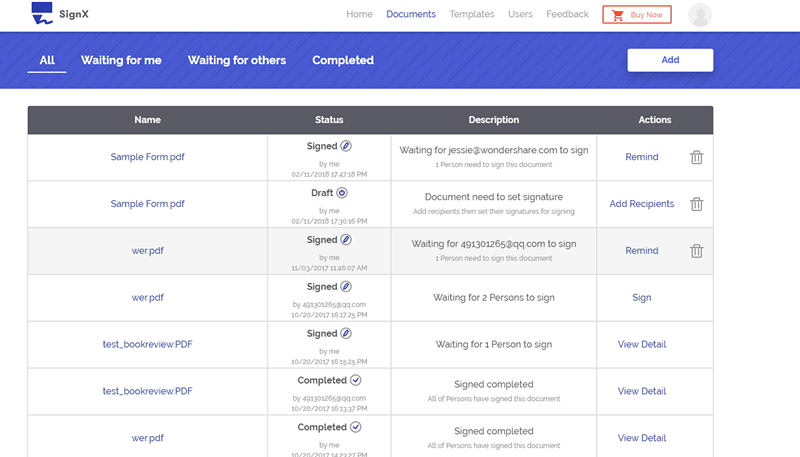 Step 4: Manage the Signed PDF
The properly signed PDF file will arrive at you as soon as all the other parties have signed it in order and sent it back to you. You can keep the document on SignX website which is very secure. You can then access it from any device at any place and anytime.
2. How to Electronically Sign a PDF by Yourself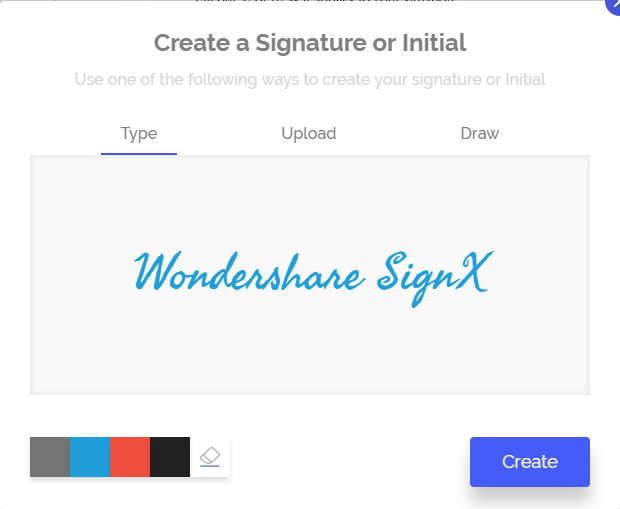 Step 1: Create Electronic Signature in 3 Ways
You can create your electronic signature by either uploading a copy of your signature, draw or even type. All you have to do is, log in with your credentials on SignX and look for the middle left of your account's Home Page. Just below your name and e-mail address, there is a blue link named "Create Signature".
Click on it, and you will get another box where you can "Draw" your signature with touchpad or mouse using our marker. If you're comfortable with typing your name or initials as a password, you can click "Type" just on the right of "Draw". This will open a space where you can type your signature. Alternatively, you can click on "Upload", located just to the right of "Type" option and upload a photo of your signature.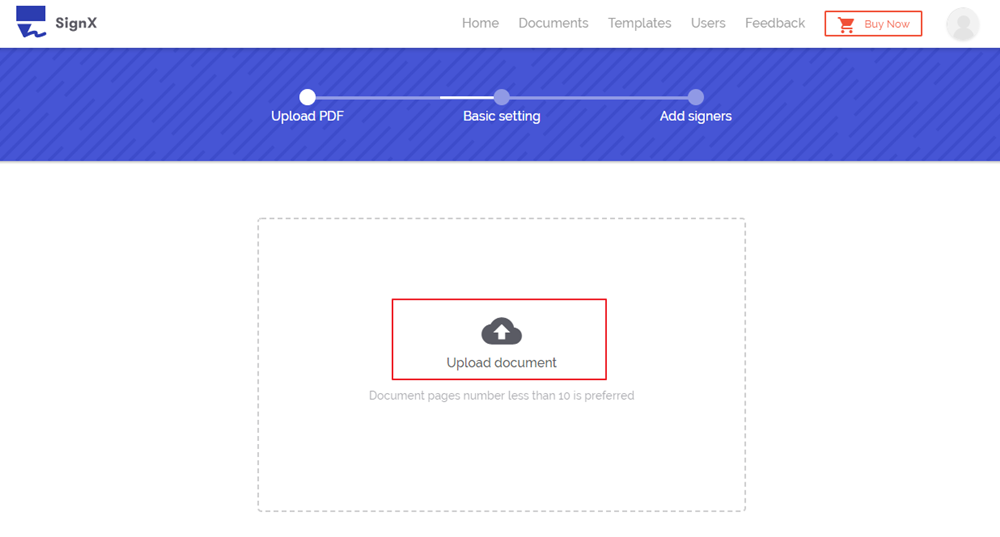 Step 2: Upload PDF File, Add Yourself as Recipient
For uploading your PDF file, look for a blue button on your account's home page named "Send New Document" and select that. Click the + icon to upload your document. Just click "Next" twice to get the page where you can add recipients and there you can add your email.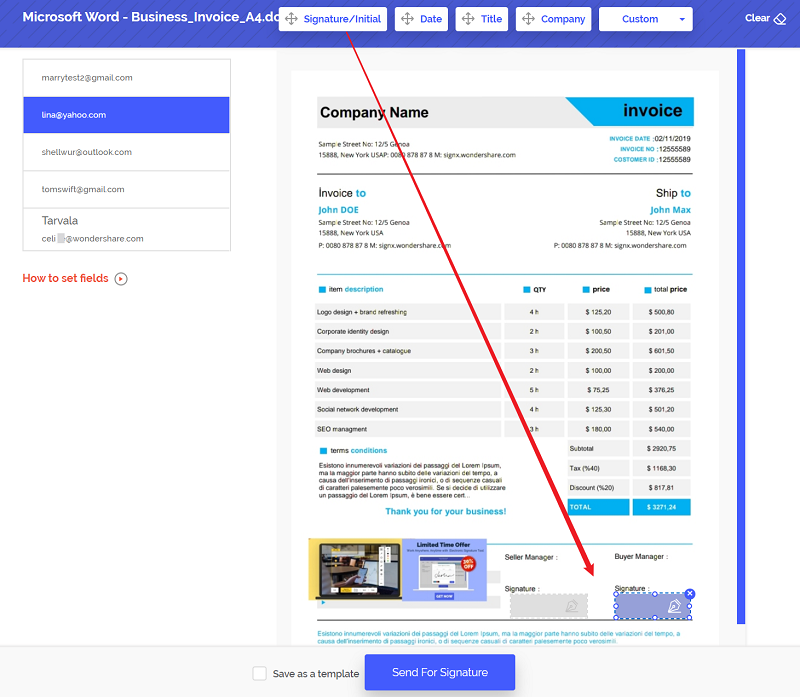 Step 3: Insert Your Electronic Signature to the PDF
When you reach the editing window, select your email address from the list on the left and select your signature location. After that, drag and drop your signature to that location to insert it. After that, click on "Send for Signature".
After you receive the properly signed document, you can save it in your SignX account and open it on any device at your wish. It will be at the safest place!
Part 3

Why We Need to Electronically Sign a PDF
Electronic signature is now recognized as legal by the government of most countries.
Electronic signature is a safe and secure method to obtain signatures; in fact, it's safer than pen and paper because it contains more information such as IP address of the signer.
The signed documents can be easily encrypted and stored online to ensure their safety.
Electronic signature programs can easily integrate with business tools like Box, Salesforce, Dropbox, Google Docs, Microsoft word, etc.
There is no possibility for the hassle of a wrong or missed signature in electronic signatures.
Using Electronic signature saves a lot of time, efforts, and money of all parties involved.