The Best Way to Sign PDF Online
Digital documents are a blessing in disguise for most. They have made it much easier to manage, edit, and sign PDF online from the comfort of our home. However, signing these documents through online services has also been a gray area especially because of the security concerns involved. While there are countless online tools available that allow you to sign PDF online, the best ones focus on security and reliability above everything else. One such tool is Wondershare SignX - the most powerful tool for signing PDF online.
Part 1

The Ultimate Tool to Sign a PDF Online
If you are looking to throw away all the concerns of security with a reliable and safe tool for PDF signature online, then Wondershare SignX is the tool for you. This amazing tool by the popular developer Wondershare makes signing digital documents easier than ever before. SignX on a simple, three-step method for signing documents - Send, Sign, and Track.
This convenient three-step solution allows users to sign a PDF online quickly and securely. The two-factor authentication feature combined with SSL encryption on the website ensures that there are no compromises on the security of your documents.
Legal Binding: It is compliant with the demanding regulations of most countries worldwide that makes its signatures as enforcing and authentic as handwritten ones. When you apply an e-Signature, you are doing so with all the legal bindings and laws that come with handwritten signatures.
Password Protection and Encryption: Wondershare has put in its level best to ensure that SignX is as secure as an online signing service can be. With an ISO 27001 certified data center and SSL encryption protocols, it makes use of password protection features to ensure optimum security of your documents.
Document Editing Tools: There is often a need to edit documents before they can be signed. If that is the case then it has you covered with tools for personalizing, modifying, and preparing documents on-the-go. You can add form fields, edit existing elements, and delete unwanted fields from your document with the powerful editing tools.
Reusable Templates: It can be quite a laborious task to setup a document for signing and it can be even more taxing if you have to do it all over again for the next document. This is why SignX gives you the luxury of reusable templates that allow you to create and store document templates for later use. It is convenient, easy, and simple to send documents for signing with it
Part 2

How to Sign PDF Document Online

Here are the simple steps that you need to follow to sign your PDF documents with SignX: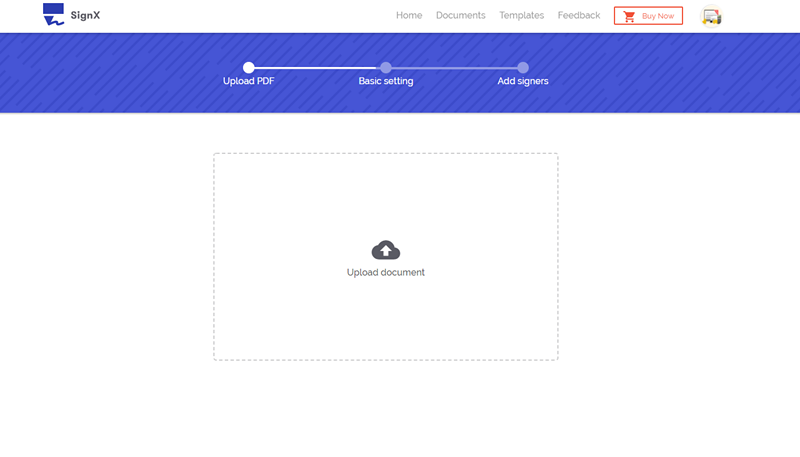 Step 1: Upload PDF
Login to your SignX account here or create a new account by clicking on "Sign Up" here.
Once you are logged into your account, click on the "Send New Document" and then on the "+" icon to add a PDF for signing. You will now be asked to add a code to your document for security purposes.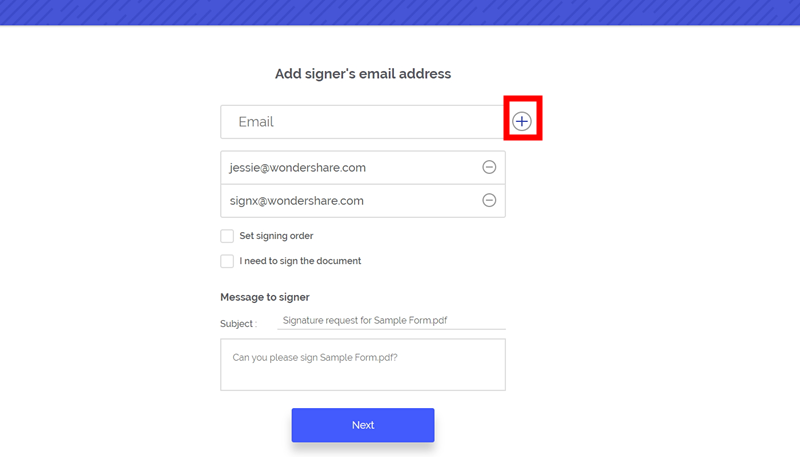 Step 2: Add Recipients for Signature
Click "Next" to add the recipients who you want ask signature from. If you need to sign the PDF, you should check the "I need to sign the document". Click "Next"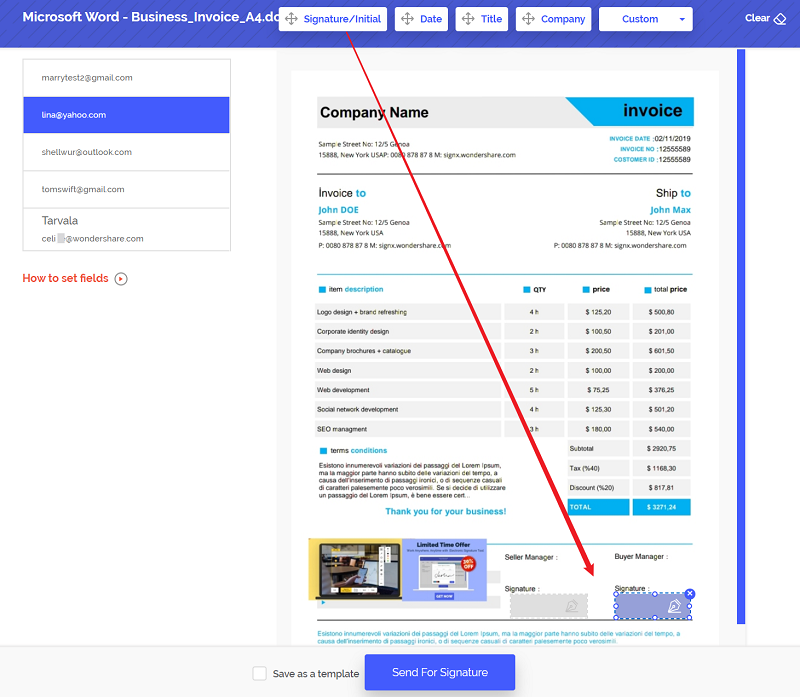 Step 3: Sign PDF by Yourself
Sign the PDF by yourself using your Mouse or Touchpad. Just click the "Signature" button and drag and drop the signature of yours. Once you have signed the document, click on recipients' email address to set signature fields for them.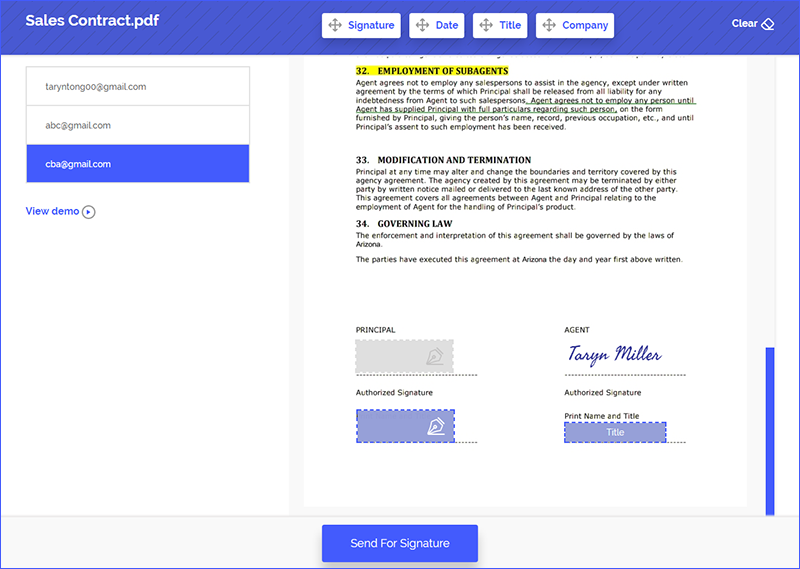 Step 4: Set Signature Fields for Others
You will now be asked to setup the fields for signing. Click the "Signature" "Date" "Title" and "Company" to add signature fields to the PDF. This is for sending to other signers. Now you should click on "Send for Signature".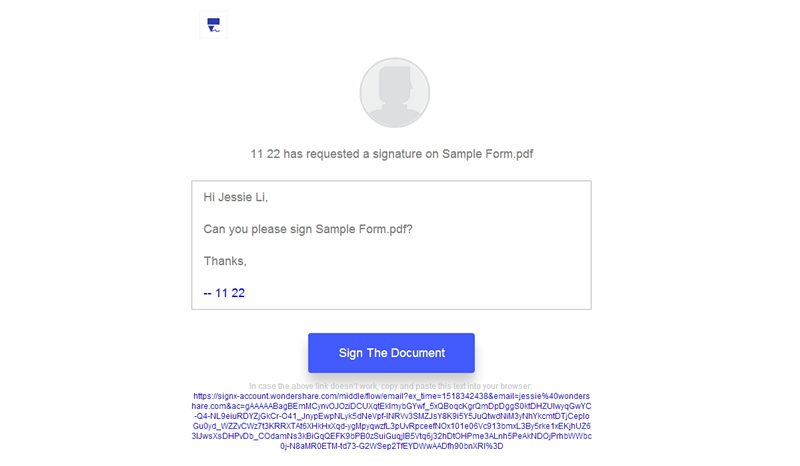 Step 5: Sign PDF by Recipients
The recipients will receive the email reminder to sign the PDF. Once the PDF documents have been signed and submitted by the recipients, you can manage the document by clicking on "View the Document" option. This will allow you to monitor and review the document as it is being signed by other recipients.
Part 3

Tips for Signing PDF Online

Given below are some top tips that you should consider before signing a PDF online:
When choosing an online signing service, look for a cloud-based service that caters to the requirements of both business and individual users. These services offer powerful features such as document management and document editing that make your signing experience an easy and secure one.
While most services will offer multiple options for signing digital documents, it is essential that you make use of the drawing tool to add a real signature to the document. This form of signature most accurately resembles your handwritten signature and hence, it will stand up in court.
Ensure that you never give access to your online signing service account to anyone even if they are a recipient of the document itself. You can always share the document with other signers but you should avoid handing out your account credentials.
Always look for a service that allows you to pull your digital signature and signed documents from multiple devices i.e. it should be compatible with not only desktop systems but smartphones as well.